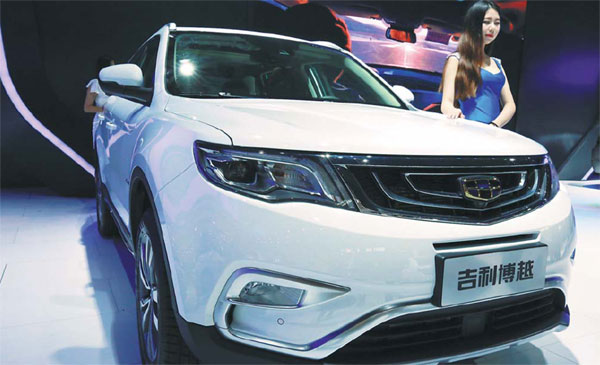 The Boyue, a sport utility vehicle by Geely that incorporates many Chinese elements in its design, on display at an auto show in Hainan province. [Provided To China Daily]
Car buyers are becoming more diverse, demanding product options that let them remain connected
The Beijing international motor show sees a number of domestic and international automakers incorporating Chinese features into their design.
Geely is only one of several Chinese manufacturers leveraging their international expertise to cultivate their own design DNA and develop their own brands.
On March 26, Li Shufu, chairman of Geely Holding Group, might have been the happiest leader of an automaker, as he witnessed the launch of the Emgrand Boyue after four years' development.
The event drew wide attention, not only because the car's base price of 94,800 yuan ($14,590), including manufacturer's subsidy, is much below market expectations, but because the compact SUV, designed by Peter Horbury, Volvo senior vice-president, was hailed as the most beautiful SUV in China by the media.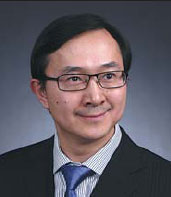 With more than 20 years' design experience for Aston Martin, Jaguar and Volvo, Horbury came up with a bold and sharp design for the vehicle featuring "a leaping cheetah" sideline and "floating" roof.
The Boyue contains a lot of Chinese elements in its design, such as the front in the shape of a bird's wing, the grill frame styled like a wave, and the lines of the instrument panel, which resemble an ancient Chinese bridge.
Geely is hoping the Boyue will achieve monthly sales of 10,000 units upon maturity.
However, with the Chinese market contributing nearly 30 percent of their global sales in total, international automakers are also working hard to better tailor their cars to the Chinese market.
The most common adaptations are longer wheelbases and smaller displacement turbo engines. The all-new Mercedes-Benz E class, the Audi A4L, the Jaguar XFL, as well as the VW New Magotan and Citoren C6, all feature wheelbases that are extended 100 mm or 150 mm over the original to provide more legroom.
Likewise the 1.4-liter engine of the Audi A4L and VW New Magotan, the 1.2L engine of the Nissan Tiida, the 1.5L engine of the 10th generation Honda Civic, and the 1.4L engine of the Jeep Renegade have all been specially calibrated for Chinese consumers so they can enjoy the government subsidies on engines smaller than 1.6 liters.
When purchasing a car, Chinese consumers are primarily concerned about safety (72 percent) and telematics functionality (45 percent), according to a Nielsen survey.
They see better equipped models as a reward and a means of self-expression.
Both Chinese and foreign automakers have responded to this by adding more active safety and infortainment and driver assistance features such as lane assistance, blind spot monitoring, adaptive cruise control and auto parking.
April's Beijing auto show will not only feature models with LCD screens enlarged from 7 inches to 10 inches or even 12.3 inches, but also more innovative interactive features such as voice control, mobile mapping and WiFi connection.
New group of buyers
Still, car manufacturers have to do more if they hope to win Chinese consumers.
Currently car buyers are mainly from middle class families in the first- and second-tier cities, whose monthly incomes are around 10,000 to 30,000 yuan, and well-off families in the third- and fourth-tier cities, whose monthly income is from 3,000 to 8,000 yuan.
However, a third group of buyers, new city immigrants, is fast growing. Every year, China's urbanization drive sees millions of people migrate from rural to urban areas, from inland smaller cities to large cities along the affluent eastern coastal regions and in the Yangtze River Delta region.
This population is projected to grow from the current 253 million to 291 million in 2020. As they become more stabilized and affluent, with extended families, their desire to own a private car drives them to dealers' showrooms.
Nielsen research indicates the car purchase budgets of new city immigrants' ranges from 80,000 yuan to 180,000 yuan. Their preferred types are sedans, hatchbacks and smallsized SUVs. Most of them are exposed to international car brands every day from which they learn about design and technologies. Their primary requirements are for a safe and quality product at an affordable price, as well as one that offers trouble-free service. Therefore they have no strong brand or body type preference as long as their needs are fulfilled.
Winning formula
However, this emerging consumer group is the rule-changer. Simply copying designs from best-selling car models and offering them at a lower price will not be enough to please these buyers.
When it comes to cars, the winning formula is for the product to meet the needs of consumers and delivers distinctive benefits. However, to achieve distinctive benefits is far from easy. According to a recent testing of 24,654 new product launches in the food, beverages and personal care categories, only 15 new products succeeded in meeting the three key criteria: relevant, enduring and distinctive. That's a success rate of less than 0.1 percent.
But these 15 products not only received breakthrough innovation awards from Nielsen, they were rewarded by the market, as their prices were 250 percent higher than the average in the categories they belonged to.
Car buyers are becoming more diverse, and they want more personalized products that let them stay connected.
Auto manufacturers now need to look beyond the bestselling body types and come up with versatile vehicle designs with more consumer-centric telematics. They have to forget the traditional definitions of premium or mass features, and package the most desirable technologies and equipment to maximize customer benefits.
The author is director of Auto vertical, Nielsen China.
(China Daily 04/25/2016 page38)