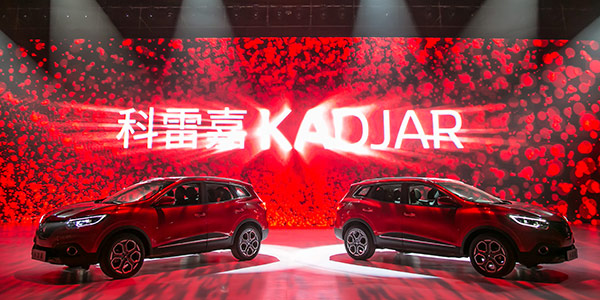 Dongfeng Renault launched its first product, the Kadjar, at a ceremony in Beijing on March 18, 2016. [Photo provided to chinadaily.com.cn]
Dongfeng Renault launched its first product, the Kadjar, in the Chinese market on Friday, with the SUV's range of configurations tailored for local customers.
Built on Renault's Common Module Family architecture, the sport utility vehicle is powered by a two-liter Energy direct injection gasoline engine and seven-speed continuously variable transmission. The powertrain provides smooth gear shifting and maximizes fuel economy.
The Kadjar has a wind resistance coefficient as low as 0.3, which benefits from the French brand's racing technologies and aesthetics. Its front grille applies the family's R-Sport Design, and carries a Power Wave tail. It is also equipped with full LED headlights and 18-inch diamond cut alloy wheel rims.
Jacques Daniel, president of Dongfeng Renault, said: "The compact SUV market is the most promising segment in the country. After Kadjar, a bigger product is coming later this year."
Executive vice-president Hu Xindong said: "The team found Chinese customers have their preferences - sunroofs that can be opened, independent suspension, and so on."
The new model offers Chinese customers an extra configuration that is not available in its European edition - a large panoramic sunroof. Its sporty suspensions are also specially adjusted for Chinese road surface conditions.
The SUV, with 196 mm ground clearance, can be driven in three modes: two-wheel-drive, auto and lock. In the lock mode, the torque is split 50/50 between the front and rear wheels on surfaces such as sand, mud or snow.
Six airbags are installed as standard in every Kadjar, and 70 percent of the car body is forged in high-strength steel.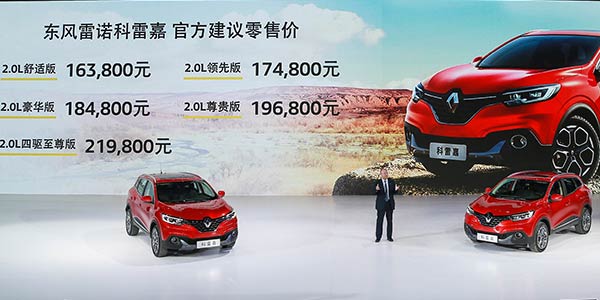 Executive vice-president of Dongfeng Renault, Hu Xindong, accnounces the prices for Kadjar at the launching event in Beijing on March 18, 2016. [Photo provided to chinadaily.com.cn]