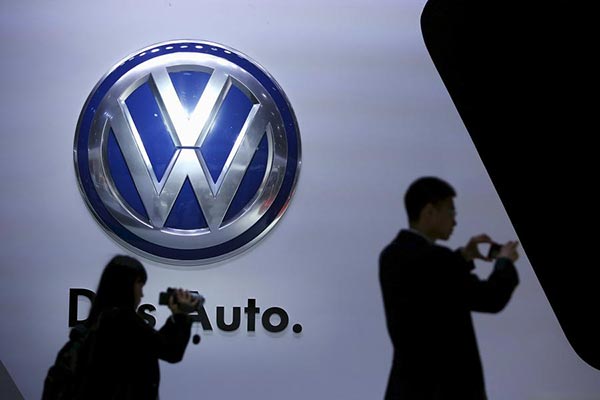 Guests stand next to a Volkswagen logo at the stage of the company at the 16th Shanghai International Automobile Industry Exhibition in Shanghai, in this April 20, 2015 file picture. [Photo/Agencies]
Volkswagen AG is confident its China sales may rise in line with the overall auto market this year, as it explores potential cooperation with domestic firm Anhui Jianghuai Automobile Co, better known as JAC, in what could be a third partnership with Chinese automakers.
The head of the German firm's China business, Jochem Heizmann, said in Beijing he expected China's total passenger car market to perhaps even exceed gross domestic product growth in the world's second-largest economy.
"If we look to the general growth situation, it's still tremendous, big growth," Heizmann said, adding that there is potential for expansion in China's smaller cities despite the country's economy registering a weaker growth.
"These are still cities with millions of inhabitants but in a different development stage," Heizmann said.
The executive said VW will stick to existing plans for China, investing more than 4 billion euros ($4.46 billion) annually for the coming years.
Its global business has come under increased scrutiny since it admitted in September it misled United States regulators about vehicle emissions.
Sales in China, a stable source of revenue for years and the carmaker's biggest market, fell 3.4 percent in 2015 before rebounding in January.
US rival General Motors Co's vehicle sales in China rose 5.2 percent last year, allowing it to overtake VW to claim the number one spot in the world's largest car market.
While confident in VW's existing operations in China, including two tie-ups with domestic automakers, Heizmann said VW is in early talks with JAC, a State-owned automobile and commercial vehicle manufacturer, about the potential for cooperation between the pair.
Asked whether cooperation with JAC could involve electric vehicles, actively being promoted by the government as a solution to chronic pollution in the country's large cities, Heizmann said: "We have started talking about potential for cooperation, but no more detailed plans at present."
Based in Hefei in the eastern province of Anhui, JAC is one of China's smaller automakers.