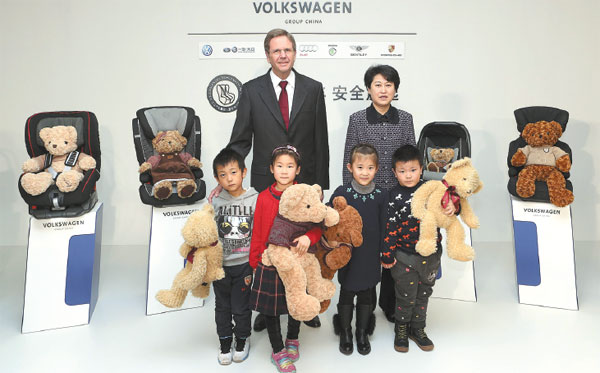 Volkswagen Group China President and CEO Jochem Heizmann and Yu Hongqiu, deputy chairwoman of the All-China Women's Federation, present safety seats and gifts to children during a recent campaign.[Provided to China Daily]
Volkswagen Group China founded a lab to study powertrains and donated three of its most advanced engines and gearboxes to a vocational school in Jiangxi province on Dec 9.
Enabling students to catch up with the latest developments in automobile technology, the lab gives a boost to students including those at the Xingguo Vocational Secondary School who before had little chance to practice what they learn in books.
Jiangxi was one of the most important revolutionary bases but many parts remain underdeveloped.
Vice-President of Volkswagen Group China Yang Meihong said: "Conforming to the principle of 'teaching one to fish is better than giving him fish', Volkswagen Group China not only offers material assistance but also drives cultural and educational development of the old revolutionary bases by giving play to its own strength, thereby building up strong momentum for the vocational education."
It is the second powertrain lab the German automaker has established to help develop auto mechanics. The first is in Zhidan, Shaanxi province.
Both moves were made through the Rainbow Bridge Project, an initiative by the Chinese People's Association for Friendship with Foreign Countries.
Volkswagen also provides top learning environments at its production bases in China. In August, teachers from the Xingguo school were invited to Volkswagen's Dalian plant for training.
The automaker said more field practice will be provided to teachers and students in the future.
Now established in China for 30 years, Volkswagen would like to give back more to society, said Jochem Heizmann, member of the board of management of Volkswagen Group as well as president and CEO of Volkswagen Group China.
"We value the wellbeing of people in China. That is why in addition to our corporate activities as responsible member of this society in the past, we do not only talk but also act," said Heizmann.
"We are funding 50 million yuan ($8 million) to different charity projects in China. As the most responsible partner in China's auto industry, we will make every effort to promote sustainable development here."
A grandfather of two, Heizmann announced the Child Safety Initiative at the Guangzhou auto show in 2013. Volkswagen China has since organized activities in 17 cities in the country to promote awareness of child safety seats and donated 5,000 seats to families in cooperation with Shanghai Volkswagen and FAW-Volkswagen.
The company said it will visit another 100 cities to champion the use of child safety seats and enhance cooperation with kindergartens, schools and other institutions.
Volkswagen is also organizing training camps to help develop youth football. In March 2014, a junior football team from Zhidan, Shaanxi province and Hong'an, Hubei province, visited Germany as part of the Volkswagen-sponsored Rainbow Bridge Project.
They participated in training activities with the VfL Junior Football Team, 2013 champions of the junior German football league and visited several renowned local museums as well as Autostadt-or auto city-a visitor attraction adjacent to the Volkswagen factory in Wolfsburg.
In October 2014, with support from Volkswagen, star football player and coach Roy Präger of VfL Wolfsburg held training sessions for about 400 youngsters in Beijing, Shanghai and Changchun, capital of Northeast China's Jilin province.
Volkswagen also places emphasis on academic education. It is working with more than 30 Chinese universities on different topics such as innovative technologies, vocational training and human resources.
The automaker has also helped in disaster relief efforts. It donated 5 million yuan to victims in Ludian, Yunnan province immediately after the earthquake in August. Partnering with the China Women's Development Foundation, it established Child Safety Centers to help children recover from psychological trauma.
It also started a safe drinking water program to ensure clean drinking water for thousands of children in the earthquake hit region.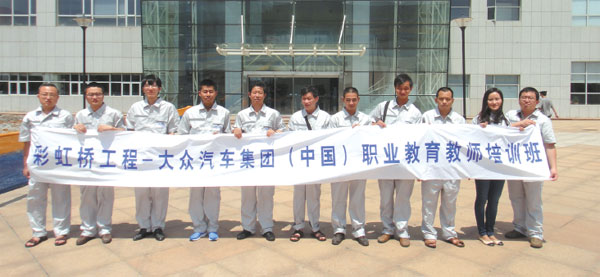 Teachers from Volkswagen Group China's powertrain labs attended training at Volkswagen's Dalian plant. The move is part of the Rainbow Bridge Project.[Provided to China Daily]