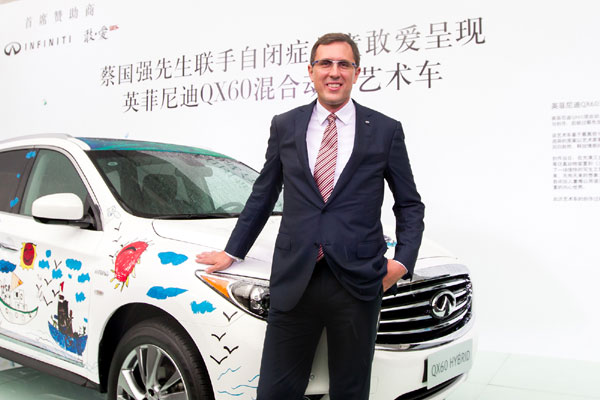 Daniel Kirchert, managing director of Infiniti China, with the QX60 Hybrid painted by 15 children, including eight with autism. [Provided to China Daily]
Japanese automaker Nissan Motor Co's premium brand Infiniti gave a lift to its 2014 marketing campaign by providing customers with a new experience combining art and emotion.
Earlier this month, Infiniti announced its sponsorship of famed Chinese artist Cai Guoqiang's solo exhibition called The Ninth Wave at Shanghai's Power Station of Art, the nation's first publicly funded contemporary art museum.
The artistic endeavor was kicked off by a 10-minute daylight fireworks display Elegy along the Huangpu River. It is the first time the New York-based artist born in China is giving a daytime fireworks display to Chinese audience.
Cai is best known for his firework shows at the 60th anniversary of the establishment of China in 2009, and the opening and closing ceremonies of the 2008 Olympics in Beijing.
Employing colored smoke and conceived in three chapters-Mourning, Remembrance, and Consolation-the "explosion event" is an expression of sorrow for the demise of nature, said the artist.
Including 11 major works representing the diversity of his art, Cai Guoqiang: The Ninth Wave "unapologetically sheds light on one of the greatest challenges faced by mankind-Earth's current environmental and ecological crisis", Cai said.
With heavy smog in the air and 16,000 dead pigs floating down the Huangpu River last year, environmental issues in China have reached a critical level, Cai said.
Exploring the challenge to the environment, the artist references a theme in traditional Chinese aesthetics and philosophy-humanity's longing to return to a primordial landscape and spiritual homeland.
The gallery's building, a former electrical plant, serves as a powerful backdrop for an exhibition that focuses on interaction with nature.
"In combination with the Power Station of Art's unique historical background, Cai addresses increasingly urgent environmental and ecological issues through rich and varied artistic explorations," said Gong Yan, director of the gallery.
"The deep humanistic concerns expressed in The Ninth Wave have great significance in contemporary society."
In addition, an Infiniti seven-seat QX60 Hybrid painted by 15 young children, including eight with autism, guided by Cai was also debuted and became part of the exhibition.
The paintings were finished after the children visited the indoor installation of The Ninth Wave, a fishing boat from the artist's hometown of Quanzhou, Fujian province that carried 99 fabricated animals to the Bund on July 16.
"The paintings indicated the same rich and colorful inner world between normal and autistic children," said Daniel Kirchert, managing director of Infiniti China.
"The highly efficient, low-exhaust Infiniti QX60 perfectly matches the environmental theme of The Ninth Wave, representing Infiniti's social responsibility in the environmental protection sector."