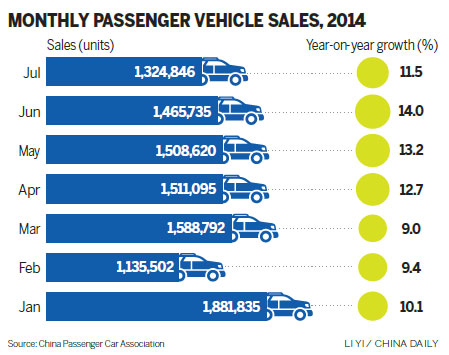 Japanese manufacturers' performance weakens due to lack of new models
Vehicle sales maintained stable growth in July, even though overall weak consumption hurt the industry and the FIFA World Cup dampened buyers' enthusiasm.
Total sales of cars, sport utility vehicles and multipurpose vehicles reached 1,324,846 units last month, up 11.5 percent year-on-year, the China Passenger Car Association announced on Friday.
Despite a decline of 9.6 percent month-on-month, CPCA Secretary-General Rao Da termed the figures "satisfactory" and "reasonable", given that July is always an off-season for the car market.
"The biggest impact came from the FIFA World Cup, which kept many consumers out of the showrooms," said Rao.
The event ended in mid-July.
"The government's plan to waive sales tax for 'green' vehicles also had many consumers holding on to their wallets," he added.
He also said that "heat holidays" at factories, which reduced output in July, helped ease dealers' inventory pressure.
Rao said that sales this month will likely rebound strongly from July.
United States-based automaker General Motors Co set a domestic sales record for July of 249,734 vehicles, as demand increased 12.7 percent from the same month in 2013.
GM on Wednesday sold its 2-millionth vehicle in China in 2014. This is the fifth consecutive year and the earliest ever that GM has achieved that milestone.
"We will continue to expand our portfolio and introduce more product offerings in China to meet increasingly diverse demand in our largest market," said GM Executive Vice-President and China President Matt Tsien. "Great products will enable us to stay ahead of this fast-growing and rapidly changing market."
Ford Motor Co announced 25 percent year-on-year growth in July, with sales surging to 90,775 units. Its total sales in the first seven months expanded 33 percent.
However, Japanese automakers, led by Toyota Motor Corp, Nissan Motor Co and Honda Motor Co Ltd, reported sales declines caused by a lack of competitive new models, said Cui Dongshu, deputy secretary-general of the CPCA. "Their situation may change if the new models to be launched in the second half are welcomed by the market."
Nissan's sales ended five months of year-on-year increases in July, falling 12.3 percent to 89,500 units.
Honda said its July sales declined by 22.7 percent and Toyota's sales dipped 1.1 percent.
Statistics from the China Association of Automobile Manufactures showed that Japanese auto producers' combined market share has continued to drop to 15.43 percent of the total passenger vehicle sector, far lower than the 20 percent-plus level achieved in 2012.
k