Hyundai Motor sees China sales slowdown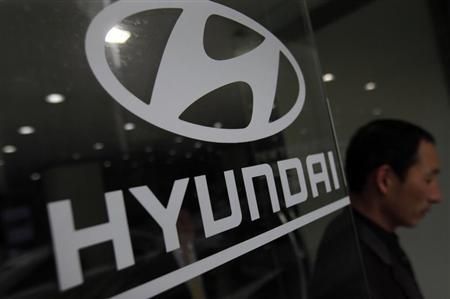 Logo of Hyundai[Photo/Reuters]
Seoul - Hyundai Motor Co expects its strong sales growth in China to moderate in the second half of the year, hit by an economic slowdown, tight output capacity and its failure to produce new models.
Hyundai Motor, which combined with its affiliate Kia Motors Corp is the world's fifth-biggest automaker, on Thursday posted a forecast-beating profit. Analysts now expect a slowing Chinese economy to take a toll on its stellar growth.
"The Chinese market will slow down in the second half because of the weaker-than-expected Chinese economy. Hyundai's growth will moderate too, because of the high base of last year," said Kim Dong-ha, an analyst at Kyobo Securities.
He expected Hyundai's second-half sales to grow 7 percent in China - the world's biggest auto market - after the automaker posted a 36 percent surge in first-half car sales.
Nissan Motor Co, which reported a 14 percent rise in quarterly net profit on Thursday, expressed confidence it was on track for a rebound in its key Chinese market, where it saw sales plunge since last September following a diplomatic row.
"China's car market made an explosive growth of 16 percent in the first half, as local governments expanded car subsidies, and automakers beefed up promotions," Hyundai Motor's Chief Financial Officer Lee Won-hee told a conference call.
China's automakers' association said earlier this month that it may soon restrict vehicle sales in eight more cities to curb traffic congestion and pollution.
But Lee said the regulations would not derail the growth of China's auto industry, which is expected to grow 9 percent this year.
Hyundai Motor is the third biggest carmaker in China after General Motors Co and Volkswagen AG. GM announces second quarter results later on Thursday.