Shanghai Volkswagen officially launched its local hatchback model Gran Lavida on June 29 in Wanning city, Hainan province, and added a wagon-like model to the company's Lavida series.
Shanghai Volkswagen Co President Zhang Hailiang said he believes that the new model will provide customers with a more colorful experience, pumping increased vigor into the Lavida series.
At 4,454 mm in length, the car is one of the largest in the compact category, and comes close to the average full-size car. The 2,610 mm wheelbase ensures a roomy rear comfort space, and as everyone can judge from its wagon-like appearance, a large trunk of 412 liters offers huge loading capabilities.
Gran Lavida cars come with two powertains, 1.4L Turbo- and super-charged Fuel Stratified Injection (TSI) engine with a 7-speed direct-shift gear (DSG) and 1.6L. The re-engineered aluminum engines were strengthened based on their predecessors.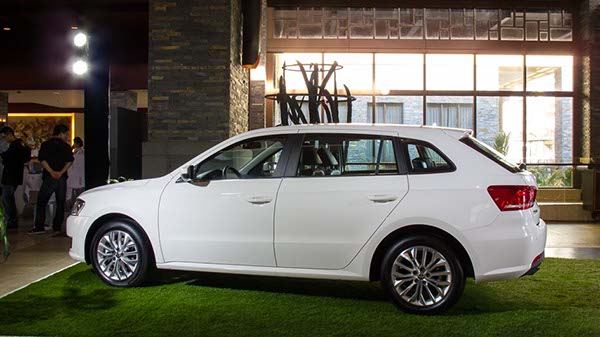 Shanghai Volkswagen's new model Gran Lavida is pictured on June 29, 2013 in Wanning city, Hainan province. [Hao Yan / chinadaily.com.cn]
The 1.4L TSI engine output has a maximum power of 96Kw at 5,000 revs per minute, and sees its 225 Nm peak torque at a low 1,400 to 3,500 rpm. The 1.6L engine output max 81Kw at 5,800 rpm, and peaks 155 Nm at 3,800 rpm.
A total of four to six airbags along with a tire pressure monitoring system helps guarantee a safe riding experience. Furthermore, electric power steering (EPS), hill-start and hill-hold controls, along with an electronic stability program all give the driver a better road experience.
"With all its abilities, the Gran Lavida is made to transfer progressive active minds for a life full of possibilities," said Holger Santel, Deputy Managing Director of SAIC-Volkswagen Sales Co at the launch ceremony.
The price range for the 1.6L model starts at 115,900 yuan and goes up to 163,900 yuan for its top 1.4L TSI DSG model.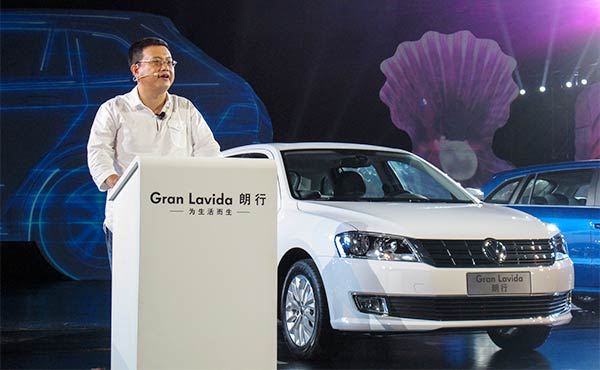 Shanghai Volkswagen Co President Zhang Hailiang gives a speech at the Gran Lavida launching event on June 29, 2013 in Wanning city, Hainan province. [Hao Yan / chinadaily.com.cn]