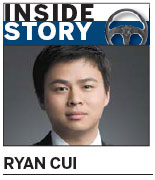 Newly released models give market shot in the arm
Light vehicles sales were up significantly in April due to gains in the market for pa
sse
A total of 1.8 million light vehicles were sold, up 13.2 percent year-on-year.
Passenger vehicle sales surged 16.4 percent year-on-year to 1.35 million units, while light commercial vehicle sales only rose 4.7 percent to 460,000 units.
The strong showing in the market for passenger vehicles was mainly attributed to the impressive performance of the SUV segment.
The sales of this segment in April jumped by 43.3 percent, or 279,586 units. It was partly due to the tremendous popularity of the Haval H6 and the launch of several new models, such as the Ford Kuga, the Ford Ecosport, the Chang'an CS35, the Peugeot 3008 and the Audi Q3.
The projection of annual sales based on April figures rose 2.7 percent from last month to 22.02 million units.
The overall estimate for annual passenger vehicle sales unsurprisingly reached another peak in 2013 of 16.84 million units, up 4.5 percent from last month, while the figure for light commercial vehicles remained low at 5.2 million units, down 5.2 percent.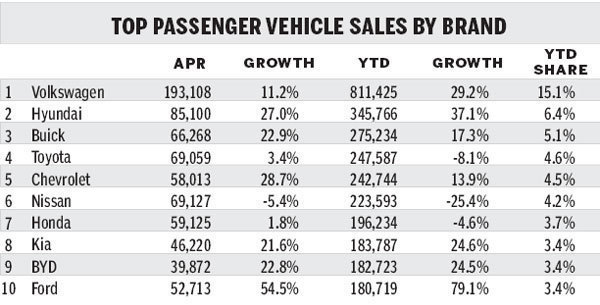 The average annual projections for the past four months of 2013 reached 21.5 million units.
Though dealers ended the process of liquidating their inventories in January and began building up them up once more, the inventory level has not risen significantly.
According to the China Automobile Dealers Association, the vehicle inventory alert index dropped from 50.96 percent in March to 50.35 percent in April. The inventory index in March also declined to 1.63, which is slightly higher than the alert level of 1.5.
The combination of several important factors has driven new car sales in China.
First, incentives provided by the dealers in 2013 boosted sales.
Second, a large number of new models and facelifts launched during the Shanghai auto show have sparked buying sprees.
On one hand, if we look at the economic data, we find that both risks and opportunities exist in the Chinese market.
In the first quarter of 2013, the economic recovery failed to meet expectations.