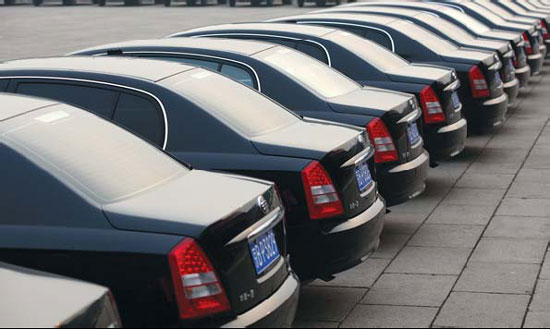 Hongqi cars dominate the parking lot at the national legislative session that opens tomorrow. [Provided to China Daily]
Once the premium car used by national leaders, the iconic Hongqi - or Red Flag - is planning a revival of its status as a government vehicle of choice.
Last month FAW Car Co Ltd held a low-profile ceremony at its headquarters in Changchun, Jilin province to deliver 13 Hongqi H7 sedans to the provincial government.
The listed passenger car unit of FAW Group said on its website that it has received a number of orders for the H7 from central ministries as well as more than 10 provincial and municipal governments.
"Our strategy is clear - first seize the market for the high-end government fleet before entering the private market," a company insider told the Chinese-language newspaper Economic Observer.
According to the source, the company has held a series of promotion events for the Hongqi H7 open only to potential government buyers.
FAW plans to invest 10.5 billion yuan from 2011 to 2015 to rejuvenate the once-legendary brand, which suspended production in the 1980s due to high costs and poor fuel efficiency.
The carmaker introduced several new Hongqi models based on foreign technologies in the 1990s and continued the attempts with new products over the following decade, yet sales remained sluggish.
The H7 sedan that rolled off the production line last July marked the beginning of the latest comeback effort. The company is now marketing the car directly to governmental customers. The model is expected to have its formal launch in the middle of the year.
The H7 has three engine options with displacements from 2.0 to 3.0 liters and a price range from about 300,000 to 600,000 yuan - almost identical to the Audi A6.
The A6 helped Audi make its legend in China starting through government procurement. Last year, Zhang Xiaojun, the former executive deputy general manager of the Audi sales division at FAW Volkswagen, was appointed general manager of FAW Car Sales Co. Zhang is expected to help rev up the Hongqi brand using his rich experience at thriving Audi.
According to the company's plan, Hongqi will introduce more models including SUVs, vans and limousines before 2015.
The Hongqi is among several domestic brands moving to tap the growing trend of government fleets using indigenous cars.
Responding to the call from the central government to support domestic brands and avoid extravagance, governments at all levels across the country have embarked on their own plans to choose domestic brands when adding or replacing official cars.
The change is good news for domestic carmakers and could eventually assist their sales in the private car market, analysts said.
hantianyang@chinadaily.com.cn