BEIJING -- China's producer price index (PPI) fell 1.6 percent in August from a year earlier, compared with a 2.3-percent drop in July, the National Bureau of Statistics (NBS) said on Monday.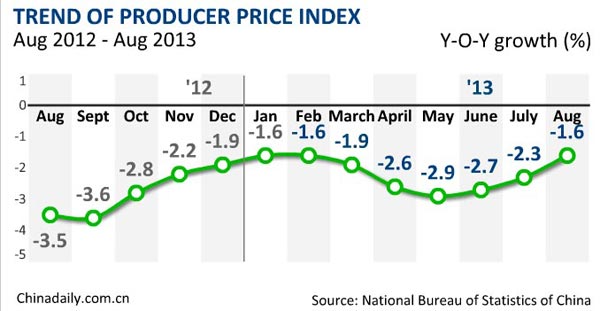 The index, which measures inflation at wholesale level, has been in negative territory for 18 consecutive months.
However, the pace of the decrease had been easing for three straight months, adding to evidence that the national economy was strengthening as the government's measures to stabilize it and adjust the economic structure started to take effect, said Yu Qiumei, an NBS official.
On a monthly basis, the PPI edged up 0.1 percent in August. In July, the index declined 0.3 percent from the previous month, according to the NBS.
It said the country's consumer price index rose 2.6 percent year-on-year in August, slowing from July's 2.7-percent gain.
Chinese stocks, which opened for trade as the data was released, added to their pre-market gains. As of 10:30 am, the benchmark Shanghai Composite Index had increased 1.86 percent to 2,179.82.