BEIJING -- China's exports went up 5.1 percent year on year to $185.99 billion in July, recovering from a tumble in June, according to data on Thursday.
Imports also rebounded last month, gaining 10.9 percent to $168.17 billion, the General Administration of Customs said in a statement.
Total foreign trade grew 7.8 percent in July from a year earlier to $354.16 billion, after it recorded a year-on-year decline of 2 percent in June.
The trade surplus narrowed by 29.6 percent year on year to $17.82 billion last month, as import gains outpaced export gains, customs data showed.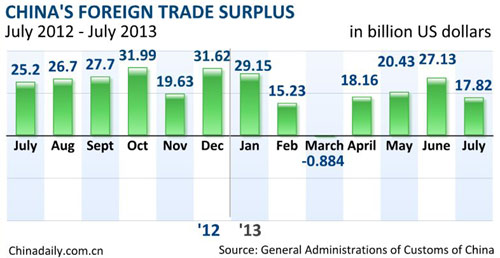 Liu Ligang, chief greater China economist at ANZ Banking Group, said the country's foreign trade improved in July mainly due to a low base figure in the same period last year, more credit support to foreign trade companies, and a recent recovery in the United States and the European Union (EU).
In July, two-way trade with the EU and the United States rose 5 percent and 10 percent over a year earlier respectively, as compared with a year-on-year drop of 5.4 percent and 8.3 percent respectively with the two economies in June.
Lian Ping, chief economist at the Bank of Communications, said western importers have started making orders for the Christmas season, which drove up China's July exports. August exports are expected to rise as well.
Previously-released July's purchasing managers' index for the manufacturing sector reinforced the positive signs of Thursday's export figures.
Data from China Federation of Logistics and Purchasing showed that the sub-index for new export orders was up by 1.3 percentage points from June to 49 percent in July.
Zhang Liqun, an analyst with the Development Research Center of the State Council, said market expectations for China's stabilized economic growth have been strengthening and exports are expected to improve slightly in the second half.
The country set the target to achieve an 8-percent increase in foreign trade this year. Despite difficulties, Commerce Minister Gao Hucheng recently expressed confidence to meet the aim.
Zhuang Jian, an Asian Development Bank economist, expected China's foreign trade to perform better in the second half, but said great difficulties and uncertainties still lie ahead.