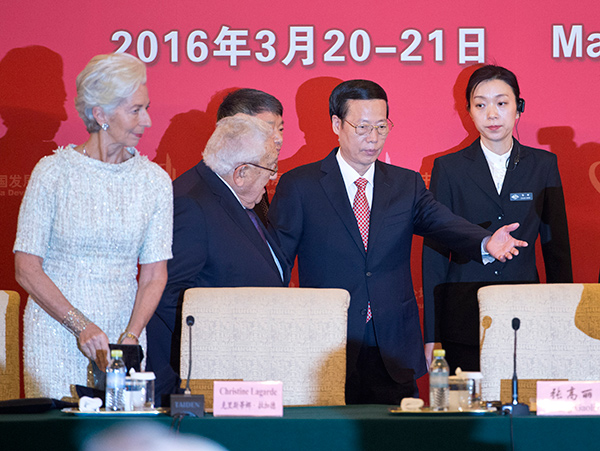 Chinese Vice Premier Zhang Gaoli (2nd from right) shows former US Secretary of State Henry Kissinger (2nd from left) and International Monetary Fund Chief Christine Lagarde (left) their seats at the opening ceremony of the China Development Forum 2016 in Beijing, March 20, 2016. [Photo by Feng Yongbin/chinadaily.com.cn]
The Chinese economy is on the right track in the first quarter of this year as major economic indicators have shown signs of improvement, Chinese Vice Premier Zhang Gaoli said on Sunday.
He said that indicators including electricity consumption, employment, fixed-asset investment, government revenues and money supply were all positive.
"If we can overcome the difficulties of this year, the prospects will be brighter next year," Zhang said at the opening ceremony of the China Development Forum 2016 in Beijing.
The annual forum serves as a high-level platform for Chinese officials, leaders of international organizations and business elites, both from home and abroad, to discuss and debate major issues concerning Chinese and the world's economy.
The vice premier said the government will take measures to shore up the economy by providing more incentives to domestic enterprises, stressing that they are the building blocks of the Chinese economy.
Zhang also said that Beijing will firmly defend the bottom line, preventing systemic financial risks.
"The government will accelerate reform of the country's financial regulatory system to prevent contagion risk in the stock, currency, bond and property markets," he said.
Local governments' debt swaps will also be pushed to resolve regional risks and to handle defaults in the financial markets in accordance with the law and market-driven principles, Zhang said.