Long-term plan to help yuan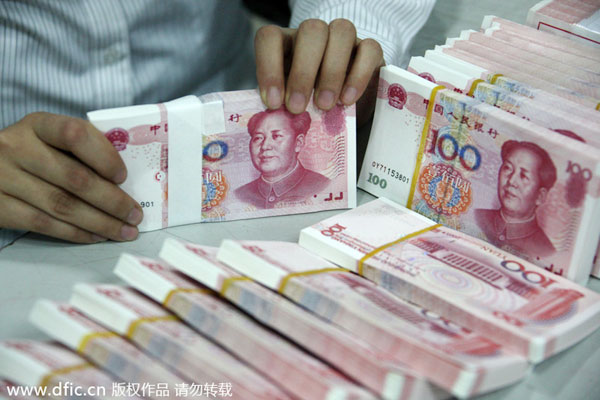 An undated photo shows a clerk counts yuan bills at a bank in Huaibei, East China's Anhui province. [Photo/IC]
Short-term capital controls may help fend off financial risks, but they will not last long at a time when the country is stepping up efforts to promote the yuan's use in international trade and enhance market openness, say economists.
The latest data from the Society for Worldwide Interbank Financial Telecommunication show the yuan accounted for 2.28 percent of global payments in November, up from 1.92 percent in the previous month, retaining its position in the top-five currency list.
As of October, among the 101 countries using the yuan for payments, the weight of their payments by value reached 12.9 percent, giving the currency a nearly 2 percent increase compared with the same period in 2014, according to SWIFT.
The trend of increased usage of the yuan to settle international trade deals reflects the boost in confidence in the currency, after it was included in the International Monetary Fund's Special Drawing Rights basket of currencies on Oct 1, which marked a vital point in the yuan's internationalization process.
But market speculations over a sustained depreciation of the yuan have aroused concerns that the currency's internationalization process might be faltering. Data from the State Administration of Foreign Exchange show that foreign exchange reserves fell to 3.01 trillion in December, almost hitting the psycological line that the central bank seems to tolerate.
Facing the pressure of capital outflows, the central bank introduced a slew of measures, including tightened supervision on individual foreign exchange purchases and enterprises' outbound investment, in order to stabilize exchange rate.
Zhao Qingming, an economist with China Financial Futures Exchange, said short-term controls may help fend off financial risks in the domestic market at a time when the country is yet to have a mature market. "But the market should not read too much into short-term policies," he said. "There would be no turnaround when the central government puts the internationalization of the yuan high in its agenda."
China's top leadership has vowed to continue to push forward the yuan's internationalization process this year, according to the statement released after the Central Economic Work Conference in December.
Zhao Xueqing, an economist with the International Research Institute of the Bank of China, said the general trend is to move toward liberalization. She said that with the rising opportunities brought about by the Silk Road Economic Belt and the 21st Century Maritime Silk Road in neighboring countries that use the yuan for settling trade deals, China needs to make more efforts in infrastructure construction.
It should also make efforts in areas such as building regulatory frameworks and improving cross-border liquidity management, she added.