China-US companies' deals signed during Trump's visit to China
Energy: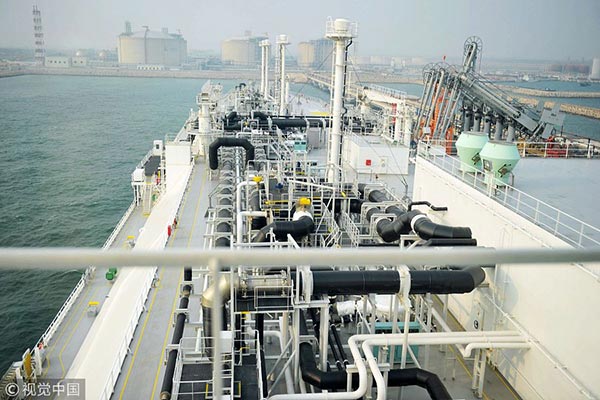 A shipload of liquefied natural gas prepares to unload at Sinopec's receiving station in Dongjiakou port in Qingdao, Shandong province, Sept 22, 2017. [Photo/VCG]
China Petroleum and Chemical Corp (Sinopec), Bank of China and CIC Capital Corp signed a joint development agreement with Alaska Gasoline Development Corp and the State of Alaska to jointly build an integrated liquefied natural gas (LNG) system valued at $43 billion.
China Energy Investment Corp signed a memorandum of understanding with West Virginia state to invest $83.7 billion in shale gas, power and chemical projects.
Delfin Midstream has reached a preliminary 15-year sales deal to supply 3 million tons of LNG a year to city gas distributor China Gas Holdings from 2021.
Air Products and Chemicals Inc signed an agreement with Yankuang Group for a $3.5 billion coal-to-syngas production facility in China.
Caterpillar Inc and China Energy Investment Corporation signed a five-year strategic cooperative framework agreement covering future agreements for mining equipment sales and rentals, technology applications and product support.
China National Petroleum Corp signed an initial agreement with Texas-based Cheniere Energy for the long-term supply of liquefied natural gas.
Honeywell signed agreements with Oriental Energy to adopt Honeywell products for projects to convert propane into propylene and with Spring Airlines to use Honeywell cockpit technologies and auxiliary power units in aircraft.
Westinghouse Electric signed contracts with China's State Nuclear Power Technology to build six AP1000 nuclear power plants in China.