JD.com marches into real estate market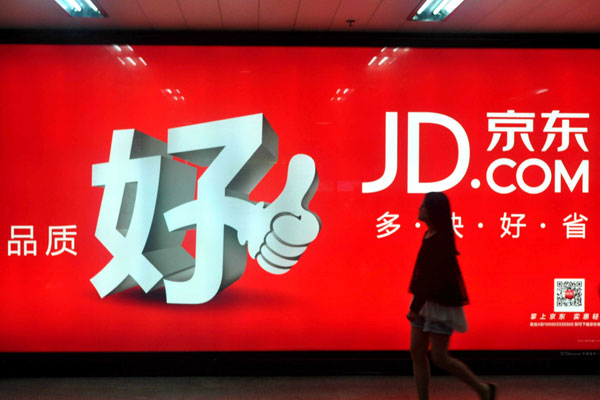 An advertisement for e-commerce retailer JD.com Inc in Shanghai. [Photo/China Daily]
JD.com Inc, China's second-biggest internet retailer, is launching a new site on its online platform targeting property buyers in association with leading developers, even as the red-hot housing market in the country appears to be cooling on the back of curbs.
The company said it would take steps to integrate online and offline real estate businesses by creating a one-stop service platform that would integrate its capacities in marketing, services and the supply chain.
JD.com will also establish a specialized team to work with other property companies in fields such as commercial real estate, tourism real estate, real estate for senior citizens and overseas real estate, as well as to develop in-depth tailor-made properties for consumers.
The company also inked a strategic partnership with Country Garden Group, a property development firm based in Guangdong province, to launch a batch of high-quality houses and offer discounts to boost property sales during the upcoming Singles Day shopping spree.
"We want to position ourselves as a service provider for property developers and will jointly explore new business models with our partners in the future," said Zeng Fuhu, general manager of JD.com's real estate business unit.
Currently there are 82 property sellers and 35 service providers on the platform, covering 2,027 projects in more than 20 cities, according to JD.com.
"JD.com has an upper hand in analyzing the consumption abilities and preferences of consumers and it can send matching property information to the sellers using big data," said Guo Yi, marketing director at Yahao Real Estate Selling and Consulting Solution Agency in Beijing.
Guo said whether the cooperation can succeed depends on how JD.com chooses real estate sellers and sends accurate property information to prospective buyers.
Apart from the housing sales market, JD.com has also entered the housing rental sector. Beijing Jingdong Shangke Information Technology, a subsidiary affiliated to JD.com, has won a bid from the Beijing housing rental supervision platform to provide technical support, according to an announcement on the official website of Beijing Municipal Commission of Housing and Urban-Rural Development.
The announcement said the company has accumulated rich experience in internet technology application, especially big data and identity authentication.
Another e-commerce giant Alibaba Group Holding Ltd has also entered the country's housing rental market. The technology giant signed an agreement with the Hangzhou city government to use the company's technology to create an online system for house rentals in August.
People seeking houses for rent in Hangzhou, Zhejiang province, would be able to use the application and website created by Alibaba for every stage in the process, from searching for apartments to signing contracts and payment.