Yogurt is top seller in dairy products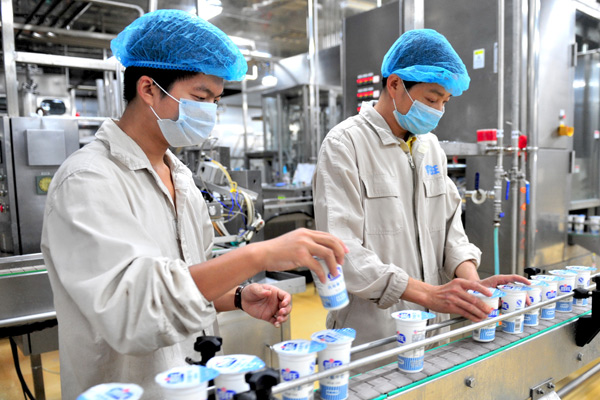 Workers inspect yogurt cups on a production line at a plant in Yichang, Hubei province. [Photo by Zhang Guorong/For China Daily]
Yogurt sales are expected to rise 18 percent this year in China from the same period a year ago to 122 billion yuan ($18.4 billion) and would for the first time overtake milk sales in the country, according to new data.
Milk sales for the year are expected to rise 4 percent to 117 billion yuan, according to market research provider Euromonitor International.
Currently, China is the second-largest dairy market in the world after the United States. This year, total sales of dairy products are expected to reach $55 billion in China and $64 billion in the United States.
Total sales of yogurt in China has risen by 108.6 percent from 2013 to 2017, whereas milk sales grew by just 18 percent in the same period, the report said.
Song Liang, an independent dairy industry analyst, said one of the reasons why yogurt has been notching up higher sales is because of the higher profit margins. In China, the profit margin of yogurt is around 40 percent, nearly double that of milk.
"Yogurt has also been the main revenue earner for the three major dairy producers in China, namely the Bright Dairy, Mengniu and the Yili Dairy Group, and also the mainstay of their net profit."
The dairy product has also been a lifesaver for several dairy producers in China, as they had been struggling to cope with the slowdown in demand and the decline in prices, due to oversupply.
In China, a large number of consumers regard yogurt as a product that is nutritional, and can help with digestion and diet. Yogurt consumption has also risen due to demand from lactose intolerant Chinese people.
By the end of last year, the flagship yogurt product of Yili Dairy Group, Ambrosial, a Greek yogurt that is co-developed by Yili and Greek Academy of Agricultural Sciences, saw its sales rise 106.7 percent year-on-year.
During the first six months of this year, the net profit of Yili rose 4.5 percent year-on-year to 3.37 billion yuan.
During the same period, the net profit of Mengniu added 4.7 percent to 1.13 billion yuan. Mengniu said its high-end yogurt products have been one of the two major contributors to the sales growth of the company.