China rips into EU for 'unfair' dumping duties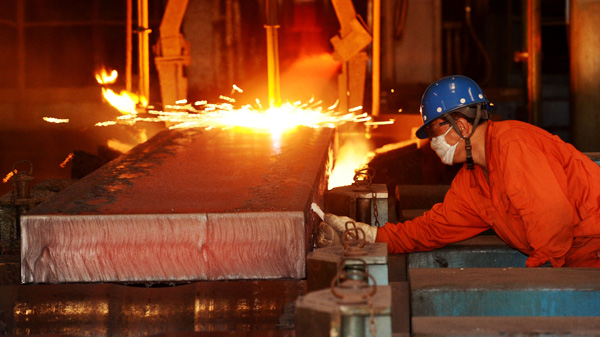 A worker operates a production line at a steel plant in Dalian, Liaoning province. LIU DEBIN / FOR CHINA DAILY
The Commerce Ministry deplores bloc's moves on steels, truck tires
The European Commission or EC must stop using the "surrogate country" method in anti-dumping investigations into imports from China and immediately withdraw wrongly imposed penalties on China's steel, ceramic and photovoltaic industries, the Ministry of Commerce said on Friday.
Its comments follow Wednesday's anti-dumping duties of up to 28.5 percent by the EC on certain corrosion-resistant steels from China.
The EC is the European Union's executive arm. Surrogate country is a term used to describe countries found to have so-called market distortions.
The EC imposed the duties after an eight-month probe, and claimed that Chinese corrosion-resistant steels benefited from unfair government subsidies.
The EC also announced on Friday that it will launch an anti-dumping investigation into Chinese truck tire products.
Wang Hejun, head of the trade remedy and investigation bureau at the Ministry of Commerce, said China's truck tire prices dropped due to a fall in raw material prices in global markets over the past two years.
So, European truck tire manufacturers' accusations that their Chinese counterparts benefited from State subsidies are unfounded and lack adequate proof, Wang said.
Earlier this year, the United States halted its investigation into China's truck tire product exports as it found they had caused no harm to its domestic manufacturers.
"The EU continued the use of the unfair and unreasonable surrogate country method in the investigation. It has resulted in artificially determined high anti-dumping duties on Chinese products and therefore seriously undermined Chinese companies' interests," said Wang.
The new EU import duties on corrosion-resistant steels will range from 17.2 percent to 28.5 percent, and will affect Shougang Group, Shagang Group, Hesteel Group and a number of Chinese companies.
"It was provisionally concluded that the imposition of measures would contribute to the recovery of the European Union industry by allowing price increases, enabling the sector as a whole to return to a profitable situation," the EC said in a statement.
Chinese manufacturers can challenge the EU decision within 25 days, that is by Sept 3.
Bai Ming, a researcher with the Chinese Academy of International Trade and Economic Cooperation, said if the EU fulfills its obligations as per the World Trade Organization's rules and maintains its status as a leading advocate of free trade within the WTO, it would be a win-win for both sides.
He said China and the EU share growth-related goals, such as a bilateral investment treaty and other treaties. They far outweigh the current dispute about anti-dumping cases.
Huo Jianguo, vice-president of the China Institute for WTO Studies, said it is always easy for politicians (in some countries) to blame other countries for their problems, and accuse other trade partners of destroying their industries or stealing jobs.