Xiongan seen sparking building materials boom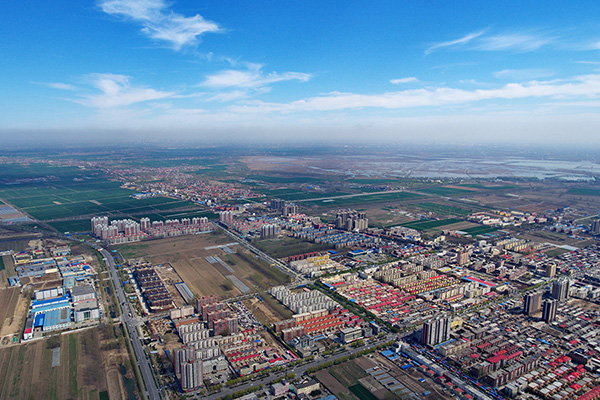 Aerial photo taken on April 1, 2017 shows Anxin county, North China's Hebei province.[Photo/Xinhua]
Since the announcement of the establishment of Xiongan New Area last month, Huang Langping, marketing director of Foshan Oceano Ceramic Co for the North China region, has received a number of old clients or newcomers seeking distribution rights in Xiongan.
Huang said that the effect of the new area would be felt in the resultant relocation of corporate headquarters and government agencies and residential property, among other factors. This, he said, would instantly lead to increased demand for building materials in the new area, located in Hebei province in northern China.
The management of Guangdong Huachang Aluminum Factory Co, which produces aluminum building profiles, has ordered its subsidiary in Jiangsu province in eastern China to talk with its distributors in Baoding, Hebei, about future development plans in response to the launch of Xiongan New Area.
The company began discussing an upgrade of its deployment for the new area right after its establishment was announced, said Deputy General Manager Wu Weishe.
The two companies are a sample of the many building material companies in Foshan, Guangdong province, embracing the market potential arising from the new area, which was created in parallel to Shenzhen Special Economic Zone in the south and Shanghai Pudong New Area in the east.
Northern China's market for building materials ranks only after eastern China's in size and with Xiongan New Area, Foshan companies are set to adjust their operations, said Kong Haifa, secretary-general of Foshan Building Materials Industry Association.
Foshan's building materials industry-consisting of manufacturers of ceramic tiles, aluminum building profiles, bathroom fixtures, stainless steel products, coating materials, plastic pipes and wooden flooring-churns out products worth an estimated 700 billion yuan ($101.77 billion) a year, accounting for a third of the city's industrial output. The city is No 1 producer of ceramic tiles and aluminum building profiles globally, Kong said.
Kong predicted the demand of building materials for public facilities in Xiongan New Area would increase, with residential property sector following suit.
It's envisioned that the new area will accommodate some noncapital functions to be transferred from Beijing.
More than 30 central State-owned enterprises-from the power, infrastructure and transportation industries-have made plans to seize business opportunities expected from the new area, according to the State-Owned Assets Supervision and Administration Commission.
Premium and environmental-friendly products are expected to win the market in Xiongan, tracking similar growth in demand in first-tier cities, said Li Yingkai, an executive with Guangya Aluminum Co.
Wang Ting contributed to this story.