Lecheng, nation's Amazon, rides policy support toward healthcare projects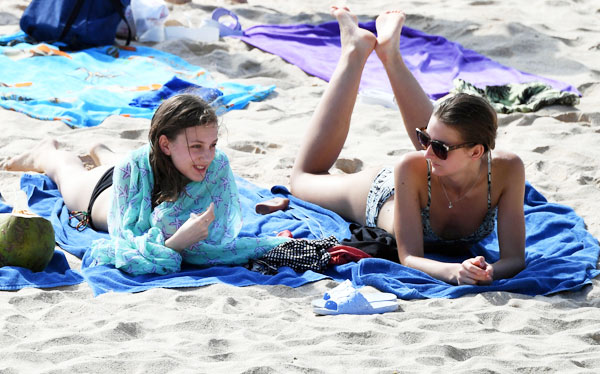 Foreigners enjoy the beach and sunshine in Sanya, which is seeing steady growth in overseas visitors. YANG GUANYU / XINHUA
The scenery around Lecheng, a small town 6 kilometers away from the site of the Boao Forum for Asia on tropical Hainan Island, is changing daily as it is turned into an international pilot zone for medical tourism, an industry which is expected to bring in $678 billion in 2017 worldwide.
About 90 kilometers from Haikou, the capital city of Hainan province, Lecheng, with its 700-year history, was chosen in 2013 as the location for a future world-class medical tourism center.
"All the projects in the the Boao Lecheng International Medical Tourism Pilot Zone, the only one in the country, have been designed to sit in an area of about 20 square kilometers, on both banks of the Wanquan River. This area has been nicknamed China's Amazon and encircles Lecheng island with plush tropical scenery," said Lin Ping, deputy director of the zone's administration office.
Equipped with state-of-the-art facilities and served by a cluster of high-end medical professionals, the zone will cater to patients from around the country and overseas, Lin said.
More than 483,000 Chinese went abroad for overseas healthcare and leisure, health checkups and other medical services in 2015.
To support development of the pilot zone, the central government has offered a number of preferential policies under which foreign companies will be able to set up medical organizations in the zone and foreign doctors will be allowed to practice there for up to three years.
"A total of 27 projects have been completed or are under construction, attracting an investment of 22.8 billion yuan ($3.3 billion). The main businesses of these projects involve treatment of tumors, plastic surgery, anti-aging services, leading-edge medical technology research, such as stem cells, health management and rehabilitation," said Lin.
He said another 36 projects have passed medical technology appraisals and in total the administration office has talked with developers of 92 high-end medical and healthcare projects, with a potential total investment of 60 billion yuan.
"When all the projects are completed in about five years, the pilot zone will be able to receive 5 million tourists a year. Output value of the services will amount to 80 to 100 billion yuan," said Lin.
Geng Songtao, a professor of tourism with Haikou-based Hainan University, believes that the pilot zone has many advantages that will help with the development of its medical tourism industry. He suggested that the zone makes good use of the preferential policies and produces an exquisite top-down design for the zone's development.
Hainan, once a key stop on the ancient Maritime Silk Road and now building itself into an international tourism destination, plans to be an all-in-one international demonstration zone for Chinese traditional medicine tourism by 2020.