Foxconn ramps up Hunan plant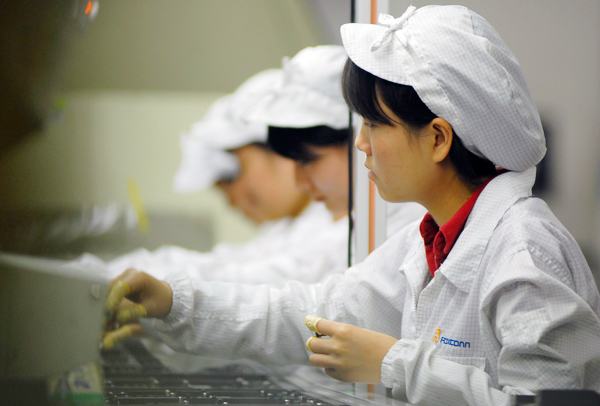 Workers at a Foxconn Technology Group plant in Shenzhen, Guangdong province. The tech giant will enhance its production capacity at its plants in Hengyang, Hunan province. WANG LEI / FOR CHINA DAILY
Firm to build precision-molding demonstration park, production center in the city
Foxconn Technology Group plans to open a production center in Central China's Hunan province for Amazon.com Inc, as part of its effort to diversify and reduce its reliance on Apple Inc, according to technology website Digitimes.
The center, based in Hengyang, will produce an array of devices for Amazon, the report said, citing unnamed industry sources.
Foxconn confirmed with China Daily on Monday that it had signed a cooperation agreement with the government of Hengyang, but declined to disclose further details. Amazon declined to comment.
The plan includes building a precision-molding demonstration park and Amazon production center in the city, Digitimes reported.
The report indicated that Foxconn will enhance the production capacity of its plant in Hengyang this year, adding 30 new production lines for audio equipment and tablets, and another 15 lines for smartphones, tablet mainboards and other components.
As a main assembler of Apple's iPhone, Foxconn's expansion plan may indicate that demand for the Amazon Echo, the voice-activated personal assistant, will increase this year, analysts said.
Foxconn and Amazon have been cooperating since 2007, and it is the sole manufacturer of the Amazon Echo.
In January, Foxconn posted its first annual revenue decline since 1991. The tech giant recorded $136.38 billion in revenue in 2016, down 2.81 percent year-on-year, after its biggest client Apple saw slowing iPhones sales.
Foxconn has launched a strategy to reduce its dependence on Apple. Last year, it acquired Japanese electronics giant Sharp Corp to rejuvenate Sharp's television business and increase its production of LCD panels, with an aim to expand its product portfolio.
James Yan, research director at Counterpoint Technology Market Research, said Foxconn has a sense of crisis and is trying to reduce its heavy reliance on Apple as the sales performance of Apple's iPhone 6S and 7 is unsatisfactory.
"Foxconn hopes to ramp up its capacity and is unwilling to just rely on a single client," Yan said, adding that Apple is also reducing its dependence on Foxconn, cooperating with other contract manufacturers, such as Pegatron Corp.
Amazon has made efforts in artificial intelligence and machine learning in recent years and has become a client offering Foxconn huge growth potential.