Reserves of forex stay above $3t mark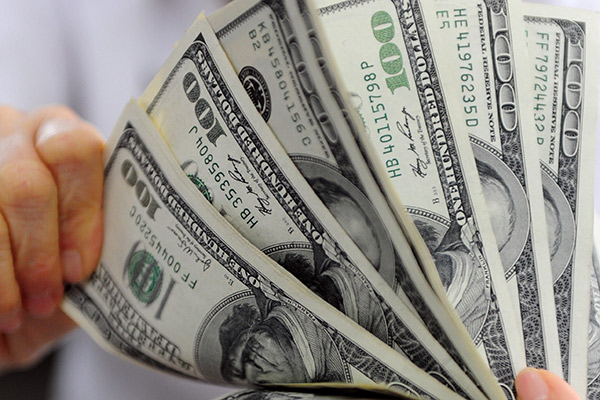 A teller counts and arranges dollar notes at an Agricultural Bank of China branch in Qionghai, Hainan province. MENG ZHONGDE/FOR CHINA DAILY
For the second month in running, China's foreign exchange reserves rose slightly in March to steady above $3 trillion.
Analysts said the stockpile will remain stable at least in the short term as the economy stabilizes.
The reserves increased by $3.96 billion during March to reach $3.009 trillion, according to data of the People's Bank of China, the central bank.
It marked the first time that the reserves had increased for two consecutive months since April 2016.
In January, the reserves fell below the $3 trillion mark, triggering concerns that they may continue to drop. But, in February, the reserves rose above that level.
Capital outflows are an important factor influencing China's scale of foreign exchange reserves, said Zhang Yansheng, chief economist at the China Center for International Economic Exchanges.
"The US' economic prospects remain blurred and the Chinese economy has been widely seen as having largely stabilized, contributing to easing capital outflows," Zhang said.
But if the US continued to raise interest rates as frequently as expected and launched a trade war with China, the situation would change for the worse and China may face heavier capital outflow pressure, he said.
Zhu Haibin, chief China economist with JPMorgan Chase & Co, also said capital outflows are expected to slow this year.
The State Administration of Foreign Exchange said that the country's foreign exchange reserves "may become more stable" given the resilient economic fundamentals.
"China's economy has sound fundamentals, great potential and a high level of resilience, and will continue to grow at a stable and relatively fast pace," it said.
Cross-border capital flows will also become more balanced and the reform to marketize the exchange rate formation of the renminbi has progressed steadily, contributing to the easing capital outflow pressure it faces, the statement said.
China's economic growth remained stable in the first two months, according to data released by the National Bureau of Statistics.
Analysts said the trend is expected to continue in March and April.
"The trend of stable and improving growth will continue in April," said Hu Yuexiao, chief analyst of Shanghai Securities Co.
Investment growth has picked up and corporate profits are also improving, he said. In the first quarter of this year, foreign exchange reserves fell by $1.4 billion and the fall was significantly smaller than in the previous two quarters, the administration said.
China's gold reserves' value fell to $73.74 billion at the end of March from $74.376 billion at the end of February, the central bank said.