Hisense hits branding jackpot with 2018 FIFA sponsorship
By XIE CHUANJIAO in Qingdao, Shandong and WANG ZHUOQIONG in Beijing | China Daily | Updated: 2017-04-07 07:19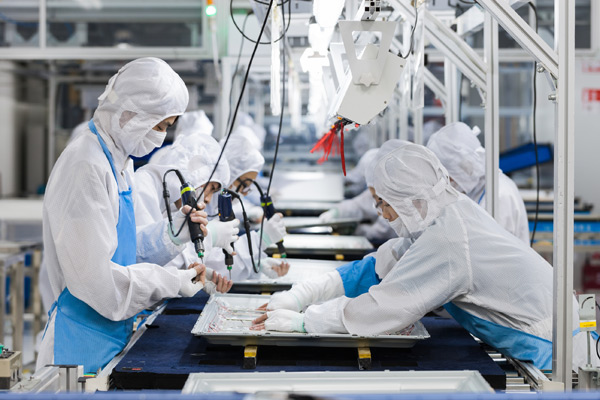 Workers assemble television sets at a Hisense Group plant in Qingdao, Shandong province. The consumer electronics maker is banking on sports event to increase its global exposure. [Photo/Xinhua]
Consumer electronics maker Hisense Group has become an official sponsor of the 2018 FIFA World Cup Russia, joining a group of Chinese brands in an effort to strengthen their global exposure and awareness.
As an official sponsor, Hisense will engage in various global marketing and advertising activities for both the FIFA Confederations Cup 2017 and the 2018 FIFA World Cup.
Its logo will be associated with these two upcoming FIFA events and the company will have access to marketing opportunities both on and off the pitch, including advertising boards in stadiums and on-screen credits.
In addition, Hisense televisions will be the official televisions for the competition. It is expected that the partnership will see Hisense reach more than 200 countries and regions and greatly enhance its international brand exposure.
Hisense joins McDonald's Corp and Budweiser in the soccer body's second-highest level of the three-tier sponsorship.
Liu Hongxin, president of Hisense, said: "Over the years, Hisense has gained a lot of experience and seen strong brand growth through sports sponsorships. We believe that the competition will vastly improve global awareness for Hisense as a truly international brand."
Hisense has rapidly expanded its business to more than 130 countries and regions around the world. The company claims that it ranks third overall in all global TV shipments.
Hisense has sponsored major sporting events and teams, including the UEFA Euro 2016, the Australian Open, NASCAR's XFINITY series, Joe Gibbs Racing and Germany's FC Schalke 04.
FIFA signed a partnership in March last year with real estate and media conglomerate Dalian Wanda Group, the first Chinese company to sign up as a FIFA partner.
Chinese e-commerce giant Alibaba Group Holding Ltd was in discussions to become a top sponsor of FIFA, Bloomberg reported, in May last year.
Adam Zhang, founder of Key-Solution Sports Consultancy, said sport games have played an important role in building internationally recognized brands.
Chinese brands that are exploring overseas markets can gain more exposure and get closer to their global consumers through sponsoring major global sport events, he said.