Alibaba says Intime privatization on track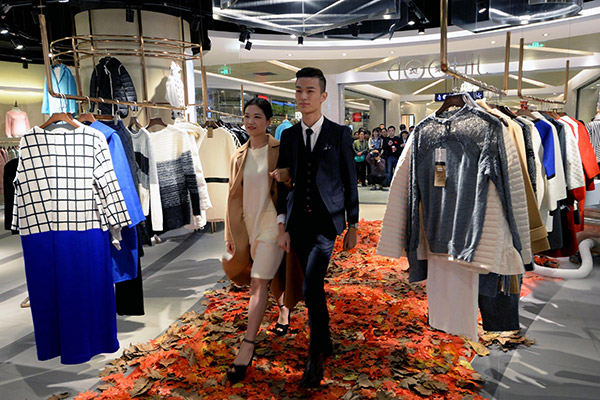 Two models at work during a fashion show in an Intime Retail store in Hangzhou, Zhejiang province, as the group moves to tackle the challenges brought about by online shopping. [Photo provided to China Daily]
Hong Kong-listed leading department store operator Intime Retail (Group) will be privatized this year-in a move led by its single largest shareholder, e-commerce giant Alibaba Investment-Intime's chairman said, adding that 2017 would be the first year of a new retail era.
Daniel Zhang Yong, chairman of Intime Retail who is also Alibaba's CEO, said Intime would team up with Alibaba to continue integrating its online business with the offline and innovate to develop a new retail business, amid an overall slowdown in the traditional industry.
Zhang said full privatization of the company would let Intime Retail be more flexible and efficient in redefining its retail business. He said Alibaba was an expert in information technology and big data, which would benefit Intime Retail in conducting retail initiatives, adding that internet companies also needed to integrate with the physical economy.
The company said recently that it had supported online brands on Alibaba's platforms to sell at its physical stores and the company had stepped up efforts to encourage its offline brands to sell on Alibaba platforms.
Alibaba invested $692 million in Intime Retail in November 2014 with Alibaba's CEO Zhang subsequently becoming the retailer's chairman in 2015.
In January this year, Intime Retail announced the proposed privatization, led by Alibaba, in a HK$19.8 billion ($2.55 billion) cash transaction.
"Nowadays we are living on the internet," Zhang said, adding that traditional retail businesses needed to take consumers' needs into full consideration just as internet companies did. In future all stores would be internet based and e-commerce had developed its own supply chain.
Zhang said Intime Retail's CEO Chen Xiaodong would take a role in Alibaba's management team soon.
The group's net profit for last year was 1.32 billion yuan ($192 million), rising 0.2 percent year-on-year. Total revenue was 5.98 billion yuan, 4 percent up from 2015. Retail revenue was 6.8 percent higher at 5.5 billion yuan.
The group's total gross sales for last year-including proceeds from direct sales, revenue from concessionaire sales, rental income, management fee and commission income-amounted to 17.21 billion yuan.