Vanke shares decline on upped impairment buffer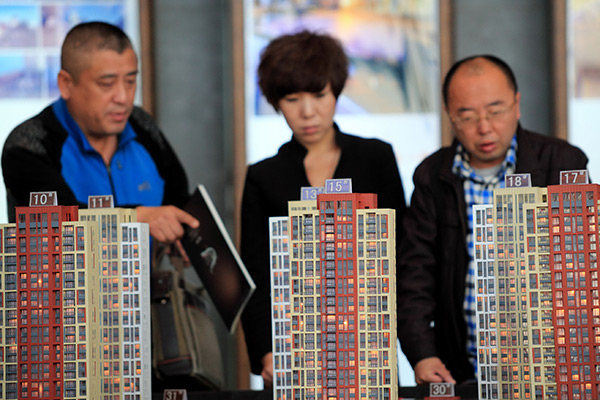 Potential homebuyers visit a housing project developed by China Vanke Co in Jilin, a city in northeastern Jilin province. [Photo/Xinhua]
Company states asset provision is prudent strategy
Leading residential property developer China Vanke Co has lowered its outlook on the real estate market in 12 cities, due to concerns regarding the booming market.
Financial results released on Sunday showed Vanke's asset impairment provision for projects last year amounted to 1.38 billion yuan ($200.9 million), a year-on-year increase of 82.3 percent, in response to constant fluctuations in housing and land prices in some cities.
On the heels of the annual report, Vanke's stock prices declined by 1.35 percent and 4.63 percent on the Shenzhen and Hong Kong stock exchanges, respectively, on Monday.
In 2016, housing sales across the country reached a record high. But, there are worries behind all this prosperity, Zhu Xu, Vanke's board secretary, told a media conference on Monday. Her comments followed the company's 2016 results release the day before.
The move to expand its asset impairment provision covers 13 projects in 12 cities, including two second-tier cities and the remaining in third- and fourth-tier cities.
Sun Jia, executive vice-president and chief financial officer of Vanke, noted the projected loss of some risk items is based on the company's prudent financial strategy. The new impairment provision this year totaled about 840 million yuan.
The company announced on Sunday that its 2016 revenue amounted to 240.4 billion yuan, up by 23 percent over the previous year. Its profit attributable to equity shareholders rose by 16 percent to 21 billion yuan.
Vanke remains one of the largest companies in its sector, as it realized a total sales area of 27.65 million square meters, amounting to 364.77 billion yuan, last year.
The growth in impairment provisions is a prudent financial measure and in itself does not imply that the company is adopting a pessimistic attitude over the market, said Yan Yuejin, research director with E-house China R&D Institute.
But, Yan admitted home purchase restrictions will require property companies to adjust related projects. In other words, the pressure to achieve their sales targets has intensified.
Since the end of February, approximately a dozen cities-including Beijing and Shanghai as well as several second- and third-tier cities-unveiled tighter measures to restrict housing purchases and cool the property market, in response to escalating housing prices in those areas.
In addition to the turbulent environment, Vanke remains troubled by a shareholding issue that began in 2015.
Zhu Xu said the company is finalizing a plan to reelect its board of directors. The current board will continue to fulfill its duties in the meantime, even after its term expires on March 28.