Nation's investments creating thousands of new British jobs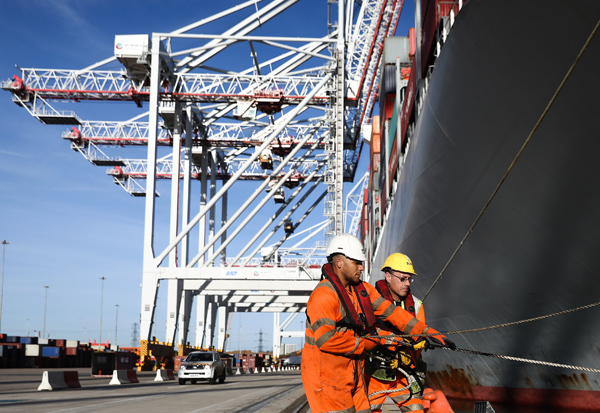 Dockers untie a mooring from a container ship docking at the Port of Southampton in the United Kingdom. [Photo / Agencies]
The fast expansion of Chinese companies in the United Kingdom is creating local jobs at a time when Brexit uncertainties have caused unemployment fears.
In addition to direct job creation, employment has also been boosted among supply chain companies as a result of massive Chinese investment, particularly within the infrastructure, property development and energy sectors.
"As Brexit uncertainties are leading to potential reduced growth rate in the UK economy over the next few years, continued investment by Chinese firms is very helpful to boost job security," said Andrew Godley, a professor of management and business history at Henley Business School.
An example is the Chinese developer ABP's 1.7 billion pound ($2.13 billion) investment to create a commercial hub at the Royal Albert Dock in East London, which is estimated to be creating more than 30,000 jobs.
Another example is the Hinkley Point nuclear power station project, which is likely to create 25,000 jobs across its whole supply chain. China General Nuclear is investing 6 billion pounds into the French-led project, one-third of the total investment.
"The partnerships with Chinese enterprises unlock supply chain potentials and the flow-on impact of job creation is great," said Mike Harrison, a spokesman for WElink Group, a British renewable energy company contracted by China Triumph International Engineering Co to construct six modular housing factories during the next five years that will each employ 200 to 250 local workers.
"In addition, Chinese enterprises also think for the long term, the long-term partnership they commit to is great for confidence and promotes deeper cooperation, which further contributes more to job creation," Harrison added.