Yum local unit plans to add 600 new stores a year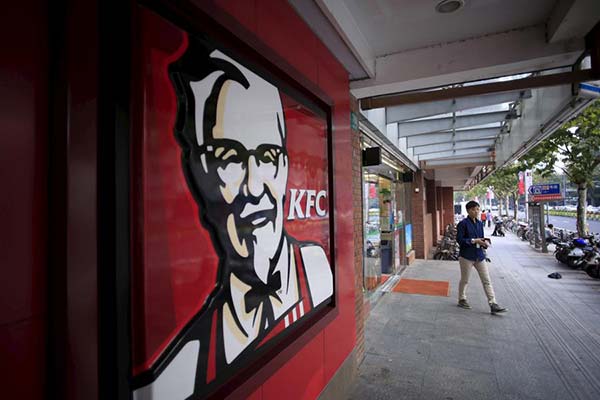 A customer walks out of a KFC restaurant in Shanghai, China, October 9, 2015.[Photo/Agencies]
Yum China Holdings Inc, which had more than 7,500 outlets in China as at the end of last year, said it has plans to add about 600 stores in the country annually.
Its move comes as rival McDonald's Corp, which agreed to sell a controlling stake in its Chinese mainland and Hong Kong operations last month, said it was adding more than 1,500 stores in China over the next five years, while Starbucks Corp is growing at 500 outlets annually.
Yum China, the Chinese fast-food company that was spun off from its US parent in October, topped earnings estimates in its inaugural quarterly results with the help of its growing KFC chain.
The company posted profit of 17 cents a share, excluding some items, compared with an average estimate of 10 cents. Same-store sales growth at KFC helped bolster results, while its Pizza Hut division performed worse than expected.
The results show Yum China had a respectable start as an independent company, even as it faces headwinds. Its pizza chain continues to decline as local competitors gain market share. The company added 575 outlets last year, with more than half that in the fourth quarter as it banks on aggressive expansion to keep it ahead of other US chains in China.
"We believe the majority of our restaurants in China are yet to be built," Chief Executive Officer Micky Pant said in a statement. "Right now, our top priority is consistently delivering positive same-store sales growth."
Yum China fell 2.4 percent to $28.10 in New York on Tuesday, the most in a month, before the results. The stock has gained 7.6 percent this year, compared with the 5 percent gain in Yum! Brands Inc.
KFC's same-store sales grew 1 percent in the fourth quarter. Analysts had estimated a 0.4 percent gain, according to Consensus Metrix. Pizza Hut declined 3 percent, missing the 2.3 percent growth projection. Combined, the company's sales were flat in the period.
Pizza Hut's performance in China has been sluggish in recent years as local competitors take market share and middle-class consumers increasingly seek out more upmarket dining experiences.
Yum China also approved a $300 million buyback program and appointed two key executives. Joey Wat will serve as chief operating officer, while Johnson Huang will become general manager of the KFC business.
Bloomberg