China receives more tourists as holiday travel continues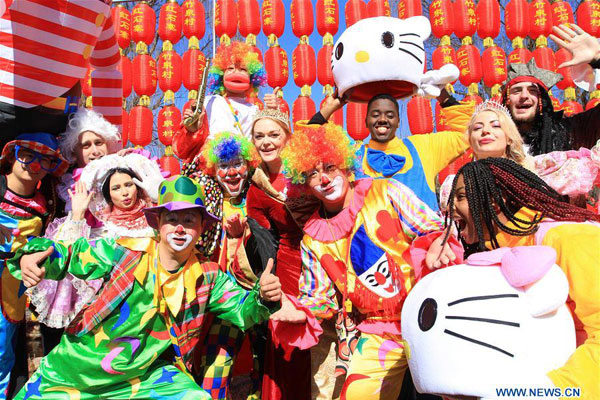 Foreign actors perform at a temple fair during the week-long Spring Festival holiday in Linyi, East China's Shandong province, Jan 30, 2017. [Photo/Xinhua]
BEIJING - Some 258.1 million visitor trips have been made in China during the first four days of the Lunar New Year holiday, which started Friday, a 14.2 percent increase compared with the same period last year, according to official data.
From Friday to Monday, China's tourism revenue reached 316 billion yuan ($45.95 billion), up 16 percent year on year, data from the China National Tourism Administration (CNTA) showed.
The CNTA previously expected that China will see 343 million visitor trips during the week-long Lunar New Year holiday, a growth of 13.6 percent from the holiday last year.
It also estimated that over six million Chinese people will travel abroad during the holiday.
In a separate statement on Monday, the CNTA asked local authorities to step up efforts to ensure travel safety during the holiday after recent tragedies, warning that the rise in tourist number will increase the chance of accidents.
A boat carrying 27 Chinese tourists sank off Malaysia's Sabah state on North Borneo on Saturday evening. A total of 20 Chinese were rescued, three were found dead, and four are still unaccounted for.
Also, a man died after being attacked by a tiger in a zoo in the eastern Chinese city of Ningbo on Sunday afternoon.