CRRC leasing arm to aid overseas expansion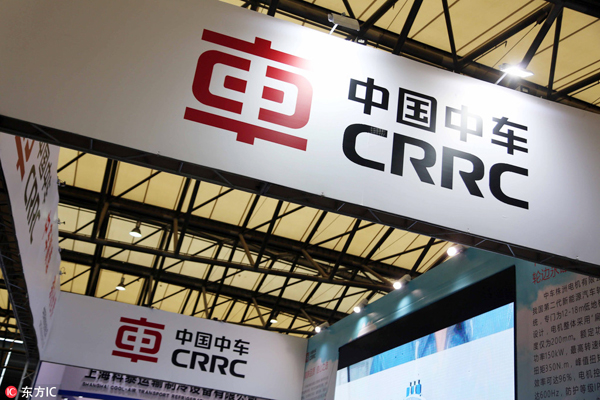 View of signboards of CRRC (China Railway Rolling Stock Corp Ltd during an exhibition in Shanghai, June 9, 2016. [Photo/IC]
China Railway Rolling Stock Corp Ltd, the country's railway vehicle and equipment maker and exporter, plans to establish a leasing company to further assist its businesses in manufacturing and overseas expansion.
The company has reached a capital contribution agreement with CRRC Group, Beijing-based China Energy Reserve and Chemicals Group and Tianjin Trust Co Ltd to establish CRRC Financial Leasing Co Ltd, according to its online statement posted late on Tuesday.
The new company's registered capital will be 3 billion yuan ($437.4 million), CRRC and its subsidiary will hold 70 percent of the company's equity.
The press office of CRRC's headquarters told China Daily on Wednesday that gaining the financial license will transform the company's operational model into a more diversified operation that can take full advantage of the opportunities likely to come from the Belt and Road Initiative, and support domestic companies' overseas expansion.
The business scope of CRRC Financial Leasing will include financial leasing business, outward or inward transfer of financial leasing assets, fixed-income securities investment business, acceptance of leasing deposits from lessees and intake of fixed deposits with maturity of three months or above from non-bank shareholders.
Interbank borrowing, borrowing from financial institutions, offshore borrowing, leasing asset sale and disposal business, economic consultancy and other businesses approved by the China Banking Regulatory Commission are also included in its service categories.
Feng Hao, a rail transportation researcher at the National Development and Reform Commission, said: "This move will improve the company's ability to further compete with its foreign rivals, especially Japanese companies, in bidding for overseas railway-related projects.
"In comparison with domestic companies, Japanese companies are proficient in forming partnerships to participate in bidding, as well as carrying out financing, leasing and developing commercial businesses such as retail or real estate at various train stations on foreign railway lines. This will be helpful for them to compete with China in gaining the right to build the Malaysia-Singapore high-speed railway in the future," he said.
Eager to diversify its earning ability, CRRC has been keen to obtain financial licenses over the past two years. It partnered with a number of State-owned enterprises including China Railway Construction Corp to establish an internet finance company to support its supply chain finance business in November 2015.
The trainmaker also spent 4.45 billion yuan to purchase 2 billion stocks from China United Insurance Holding Co Ltd in January. CRRC currently holds a 13.06 percent stake in China United Insurance.