High-speed trains race like winners in global markets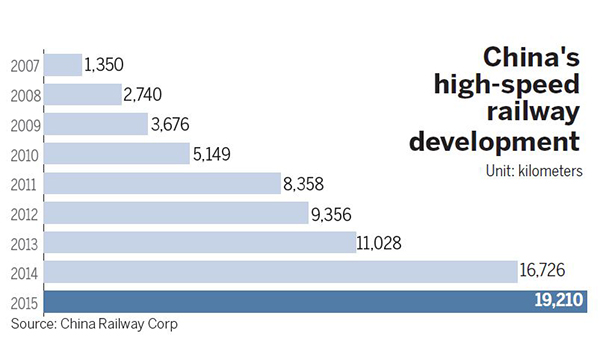 I have a distinct memory of my days at Ashford International Railway Station in Kent, southeast England, more than a decade ago. Some afternoons, I used to watch the undersea train bound for Paris speed by. I would marvel at the sleek high-speed Eurostar train, which showcased the then state-of-the-art rail technology.
Technology has since evolved pretty fast. There's been a geographic shift too in the balance of railway technology power.
Now, high-speed trains-some call them bullet trains-are ubiquitous in China. High-speed railroads spanned 19,210 km at 2015-end, accounting for more than 58 percent of the world's total. Some 1 billion passengers traveled by high-speed trains in China last year, more than half of the world's total.
China is moving on to invest in magnetic levitation or maglev trains next. Maglev trains in Qingdao, Shandong province, can reach operational speeds of up to 600 km per hour.
Over the last few years, China has demonstrated its competitive edge in high-speed rail technology. Its bullet trains run in various climates, ranging from tropical to alpine conditions, as well as across various geological and geomorphic conditions. And, in the global context, China-made high-speed trains sport bargain price-tags.
For China, it is a good time to be a bullet train manufacturer in the world market.
There is surging demand for such trains, advanced railway infrastructure, passenger services and regional connectivity in many countries, especially those covered by the Belt and Road Initiative.
It is believed investment in state-of-the-art railway networks would also create jobs, boost commerce and have a knock-on effect on the economy.
Against this background, China Railway Rolling Stock Corp, the country's largest train-maker, is eager to enhance the country's ability to ship high-end rail products.
It has plans to build bullet trains and provide related services in both developing and developed markets, including Malaysia, South Africa, Turkey and the United States. In doing so, it will compete with established rivals from Germany, Japan and Canada.
International bidders had to measure up to new standards for Indonesia's Jakarta-Bandung Railway project last year. China was awarded the contract, beating Japan's bid. What stood out was China's offer to construct the line without any official loan guarantee nor funding from Indonesia. China's bid also assured the project would be operationalized by 2019, four years ahead of 2023 that Japan had promised.
Exports of high-speed as well as regular rolling stock to over 120 countries and regions demonstrate China's commitment to help improve infrastructure the world over, using its high-tech but affordable technologies, rich experience and strong financing ability.
The Chinese approach is marked by an outlook for mutual benefit and shared prosperity. Helping other countries develop their infrastructure would also keep China's rail sector in good stead. There is evidence to this effect. Exports of high-speed rolling stock, signaling systems and other equipment have generated good returns so far.
A case can be made for China to apply its experience in railways to other products, technologies, markets and investments.