Trade war would hurt everyone, Beijing says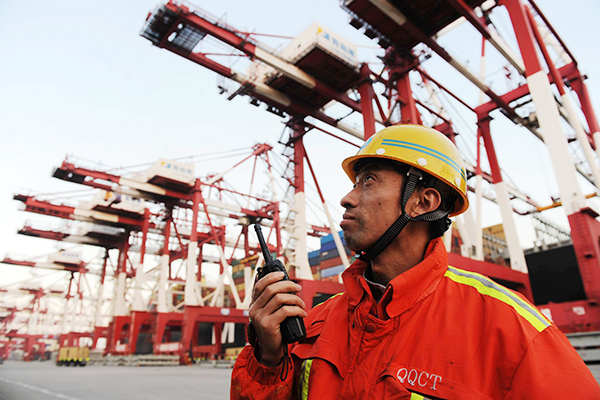 A worker looks closely as containers are unloaded in Qingdao Port, Shandong province. [Photo/China Daily]
China hopes there will not be a trade war with the United States, which would harm not only the interests of the world's two biggest economies, but that of the whole world, Vice-Minister of Finance Zhu Guangyao said.
But while it sticks to "nonconflict, nonconfrontation, mutual respect and win-win" bilateral trade principles, Beijing will steadfastly safeguard its core interests, such as sovereignty, he said at a forum on Saturday held by the China Center for International Economic Exchanges, a government think tank.
Zhu highlighted the importance of enhancing communication amid possible future trade tensions between the two major global trade players.
"Nonconfrontational cooperation is the only right choice when addressing bilateral trade conflicts. The two countries should recognize their shared interests and should give up any zero sum strategy.
"A trade war would do more harm than good for both countries, and China hopes it does not happen," he said.
Zhu cited a study by the US-based Peterson Institute for International Economics in September, saying that if high tariffs were to be imposed by president-elect Donald Trump, it would "plunge the US economy into recession and cost more than 4 million private sector American jobs".
Zhu's remarks came amid rising trade tensions between the two countries, with Trump's promise to pursue protectionist policies tending to paralyze bilateral commerce and trigger tensions. Trump's inauguration is Jan 20.
China and the US account for about 40 percent of the world economy and 20 percent of global trade. They have reached a better understanding on trade and investment issues via an annual dialogue, but differences remain, especially in areas like intellectual property rights, anti-dumping, trade deficits and the yuan.
Trump has pledged to label China as a currency manipulator and impose a 45 percent tariff on Chinese exports to the United States.
"China would properly address frictions first by negotiations, and then by going through consultation procedures under the World Trade Organization if a trade war occurs," Zhu said.
Zhu said the two nations could reach a high-level investment agreement that would be mutually beneficial, following years of remarkable increases in bilateral trade volume.
Trade between China and the US reached $558.4 billion in 2015, 228 times greater than the level in 1979, at the dawn of China's reform and opening-up era.
Zhang Xiaoqiang, vice-chairman of the government think tank, said that China would continue its opening-up policy as it plays a greater role in enhancing economic exchanges through regional programs, such as the Belt and Road Initiative and the Asian Infrastructure Investment Bank.
Robert Hormats, vice-chairman of the Kissinger Associates consulting firm and former US under secretary of state for economic growth, energy and the environment, told China Daily that the US made a mistake not joining the AIIB. He also said it would be unwise for Trump's administration to upend a good foundation for relations that has been carefully nurtured for many years.
"There should be thoughtful consideration and at least an attempt to work out differences," he said. Hormats suggested the Trump administration "take time" before making a policy shift in significant areas such as trade.