Chongqing to be coffee trading center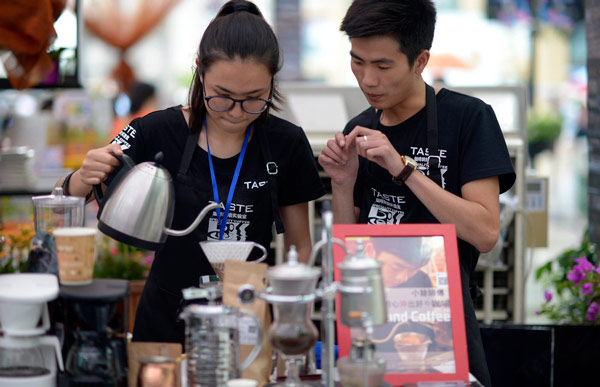 Photo taken in July 5, 2015 shows a female college student learns to cook coffee at a cafe in Chongqing, Southwest China.[Photo/IC]  
Editor's Note: Chongqing Liangjiang New Area is the third national pilot zone, spearheading the development and opening-up of Chongqing and West China. Recently, reporter Tan Yingzi finds out how the city transforms its economy to innovation-driven development.
Situated on the banks of the Yangtze and Jia Ling rivers, the mountainous city of Chongqing in Southwest China currently plants no coffee at all.
But it hopes to have a different presence in the coffee world, aiming to become the third-biggest coffee trading market after New York and London.
In June, Chongqing Coffee Exchange was established in the Liangjiang New Area. The area is the third national development and opening-up zone in China-and the first inland area-approved by the State Council, following the Shanghai Pudong New Area and Tianjin Binhai New Area.
Yunnan Dehong Prefecture Hongtian Industries Co Ltd and Chongqing Energy Investment Group are the two major investors.
Mayor Huang Qifan said that the exchange would become China's biggest platform for e-commerce cross-border trade, credit financing, trade settlement and big data collection in the coffee industry.
"But we don't do coffee futures," he added.
The exchange announced at the opening ceremony that it will export 3,000 containers of coffee and trade volume would reach 2 billion yuan ($289 million) in 2016.
In less than three months after that, it released a report that online transactions had exceeded 170 million yuan and offline trade had hit $246 million.
In China consumption of the dark drink is growing rapidly by about 20 percent each year and it is estimated that in 10 years China will become the world's largest coffee-drinking country.
Chongqing's neighboring province Yunnan is the largest coffee producer in China, with its output accounting for almost the entire national output.
Yunnan had been talking a long time about building such a trading center, but its lack of resources in brand management, international trade and financial services gave Chongqing its chance.
The Chongqing-Xinjiang-Europe (called YuXinOu in Chinese) railway has also put the city on the map as an international logistics hub by connecting the Yangtze River economic belt with Europe.
"This international trade route is changing the world coffee trading map," said Peng De, general manager of the exchange.
The new transport link is an attractive alternative for trading companies in Chongqing and neighboring provinces, that otherwise use the more time-consuming and costly maritime route via eastern and southern Chinese coastal ports-including Shanghai, Guangzhou or Shenzhen-before shipping goods through the Strait of Malacca.
The 11,000-kilometer Asia-Europe rail link, which started operating in 2011, passes through Xi'an, Lanzhou, Urumqi and the Alataw Pass, where it crosses the border into Kazakhstan.
It then continues through Russia, Belarus and Poland before ending in Duisburg, Germany.
The journey takes about 14 days, one third of the time taken by the maritime route.
The rail link is now the busiest cargo freight route between China and Europe, according to the Chongqing YuXinOu Logistics Company.
Thanks to the expanding rail links between China and Southeast Asian countries, Congqing has plans to gather over 1 million metric tons of coffee from other Asian nations within three years, especially from Vietnam and Indonesia, the second and third-largest coffee producers in the world, and transport them to Europe.
Xiong Xiangren, director of Yunnan Coffee Association, said that Chongqing's comprehensive logistics network was the main reason why Yunnan coffee producers chose to work with the city, instead of Shanghai.
In August, Chongqing Energy Investment Group set up Yuxing Coffee Co Ltd to focus on coffee processing. On Nov 20, Yuxing introduced China's largest freeze-dried coffee production line to Chongqing, which will produce 10,000 tons of instant coffee a year.
"I hope Chongqing Coffee Exchange will become a world-class trade center serving the Asian and European markets," Peng said.