Yum 'in talks to buy' food delivery company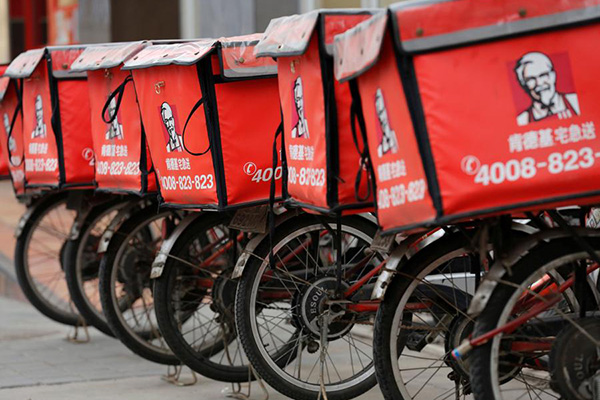 Logos of KFC, owned by Yum Brands Inc, are seen on its delivery bicycles in front of its restaurant in Beijing February 25, 2013. [Photo/Agencies]
Yum China Holdings Inc is in talks to buy food delivery services firm Daojia.com.cn for up to $200 million, two people familiar with the matter told Reuters, as the biggest operator of fast food on the mainland seeks to boost sales from customers dining at home.
Yum China has long-term ambitions to triple its outlets in Chinese mainland to more than 20,000, but as dining habits change in the world's fastest growing major economy, food delivery is also becoming a crucial area for restaurant operators to improve sales.
The sources warned that discussions are at an early stage and a deal isn't imminent.
Yum is keen to make investments in the sector, but it is still debating internally whether to acquire a business or buy smaller stakes in a series of such companies and have a meaningful say in their operations, one source added.
Established in 2010, Daojia.com.cn focuses on online food orders and delivery services targeting China's middle-class urbanites in 10 cities.
It has a 3,000-strong logistics team, and works with more than 6,000 restaurants.
Food delivery apps are gaining ground in China as the country's biggest internet firms set up "cut-price services".
They include Baidu Inc's Waimai, Alibaba Group Holding-backed Meituan and Tencent Holdings-backed Ele.me.
JD.com, China's second-largest e-commerce firm, and Macquarie Capital were investors in a $50 million round of fundraising by Daojia in 2014.
Yum China and Macquarie declined to comment. Daojia and JD.com did not respond to requests for comment.
The sources declined to be identified as the discussions are confidential.
Yum China was only spun off from US-based fast food giant Yum Brands Inc in November. The company's brands include KFC and Pizza Hut.
Last year Yum said food delivery apps in China were posing a serious challenge for its business.
Yum China CEO Micky Pant said this month that delivery was just 10 percent of company's sales, but it was growing at double digits and would be an important driver of growth.
The logistics and delivery segment has attracted investments from China's deep-pocketed technology heavyweights including JD.com, Alibaba, Baidu and others.
"It's a very aggressive play they're making. They'll have access to delivery data across China, it's very powerful to understand what people are buying, what people are consuming," one of the sources said.
REUTERS