Honeywell, big supplier to Belt and Road Initiative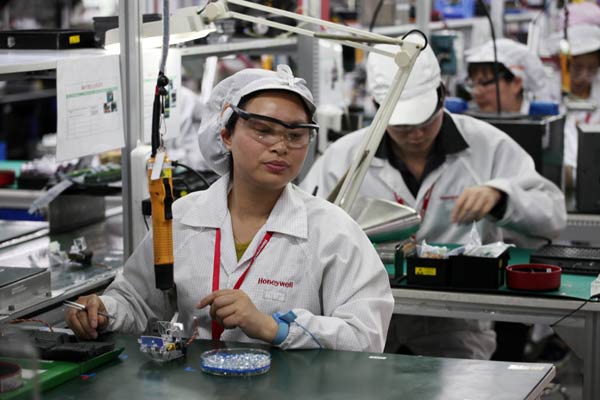 A production line of Honeywell International Inc in Suzhou, Jiangsu province. [Photo by Li Junfeng/China Daily]
Editor's note: Three years ago, President Xi Jinping launched China's ambitious Belt and Road Initiative, to link vast transcontinental swathes with a common economic thread. The initiative brought unprecedented opportunities to companies worldwide to expand their business and access new markets. China Daily presents a series of interviews with top executives of foreign companies, looking at the impact of the initiative on their operations as well as markets. In this edition, Stephen Shang, Honeywell China CEO, tells how the US-based technology conglomerate explore opportunities in emerging markets to support the initiative.
Honeywell International Inc, the US-based manufacturing and technology conglomerate, said it has been partnering with leading Chinese companies to explore infrastructure development and other opportunities in emerging markets, to support the country's Belt and Road Initiative.
Honeywell China CEO Stephen Shang said his group was well-positioned to support the Belt and Road Initiative through its China growth strategy and portfolio.
China and Central Asian countries have proposed building an economic belt along the Silk Road, a trans-Eurasian project spanning the Pacific Ocean to the Baltic Sea.
In 2009 Honeywell was selected by smartphone group Huawei-which is also a leading Chinese telecoms systems provider and EPC management company-as its automation provider to support the Uzbekistan-China Gas Pipeline Line Project. It was selected again in 2012 for Huawei's Line C Project, which is a pipeline project supplying natural gas from Central Asia to China.
Honeywell and the China International Contractors Association jointly hosted a high profile meeting in June with more than 20 leading Chinese engineering procurement and construction contractors during the 7th International Infrastructure Investment and Construction Forum in Macao.
The event showcased support for the initiative that aims to build cooperation among ASEAN, Central Asian and European countries or regions to redirect China's overcapacity and capital toward development of regional infrastructure and improvements of trade and relations.
With 23 branches and over 32,000 local staff in the countries along the "silk road", Shang said Honeywell was fully prepared to contribute further to the initiative to benefit people and livelihood in the region.
Honeywell said it is positive about the Chinese economy.
"For a long time to come China will continue to be the essential source of (global) growth," Shang said. "We need to pay close attention to China's long-term macro trends and growth prospects while managing the short-term impact of its slowdown."
In 2013 China became Honeywell's biggest market outside of the United States for the first time. China is now the single largest contributor to its growth.