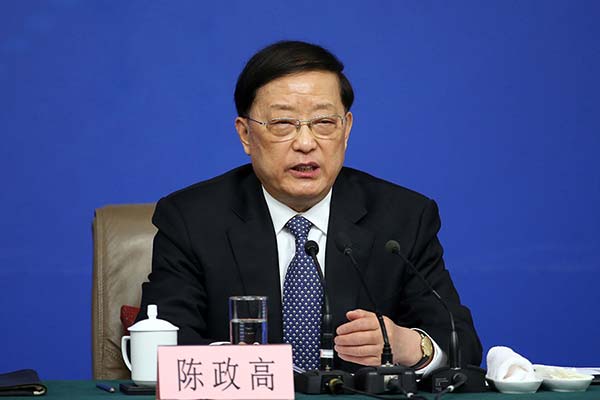 Chen Zhenggao, minister of housing and urban-rural development, speaks at a media briefing during the two sessions in Beijing, Mar 15, 2016. [Wang Zhuangfei / China Daily]
China's property market will not collapse the way it did in Japan two decades ago, Minister of Housing and Urban-Rural Development Chen Zhenggao said on Tuesday.
"It is not appropriate to compare the real estate market in China with that of Japan in the 1990s as the two countries are in different stages of economic development and urbanization. Meanwhile, we also have different macro-economic policies to control the situation," Chen said at a media briefing on the sidelines of the two sessions.
Chen's remarks came amid a growing concern over the potential risks in China's real estate sector as home prices in Beijing, Shanghai and Shenzhen have surged 20 to 30 percent after the Chinese Lunar New Year.
The supply-demand imbalance and the easing of monetary policy are regarded as major reasons for this round of price surges.
"We will take timely measures to ensure the steady and healthy development of the real estate sector, including increasing the supply of land and small-and-medium sized apartments, taking differentiated policies and cracking down on illegal behavior to push up prices," said Chen, adding he's very confident on the future development of the sector.