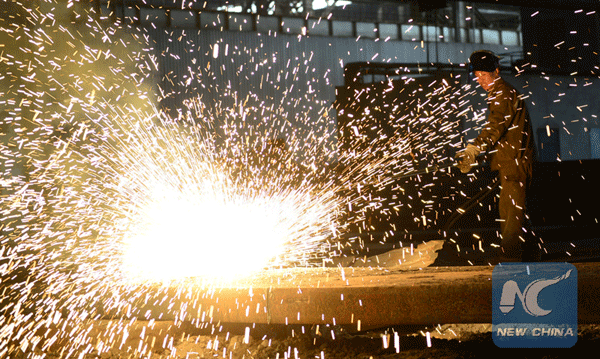 A factory worker is making steel. [Photo/Xinhua]
BEIJING -- Amid growing concern over the "new mediocrity" of the global economy, China's latest economic data provide a snapshot that the world's second largest economy is resilient and full of vigor and vitality.
China's consumer price index (CPI), a main gauge of inflation, grew 1.8 percent year on year in January, up from a rise of 1.6 percent in December while hitting a five-month high, the National Bureau of Statistics (NBS) said Thursday in a statement.
Meanwhile, the producer price index (PPI), which measures wholesale inflation, dropped for the 47th consecutive month to 5.3 percent in January, but the reading eased from the 5.9-percent contraction seen from August to December, according to the NBS.
Many overseas economists have noted that despite existing difficulties, there is still ample room for macro economic regulatory maneuvers for Chinese policy makers.
They have also pointed out that weaker output of certain industries in China is a result of "necessary adjustment."
John Edwards, a senior researcher with the Lowy Institute for International Policy in Australia, said the manufacture sector is "where we should see weakness" as China is steering the economy toward more sustainable growth.
China's economic restructuring endeavor has brought pains for certain industries, but employment figures are proof that the Chinese economy is still among the healthiest in the world.
Speaking at a regular State Council executive meeting on Wednesday, Chinese Premier Li Keqiang said the scope of China's jobless count has been expanded in January to include all prefecture-level cities and the jobless rate for the month was 4.99 percent.
As many would agree, such a figure is quite impressive for a country of 1.3 billion people, especially within the context of a flagging global economy.