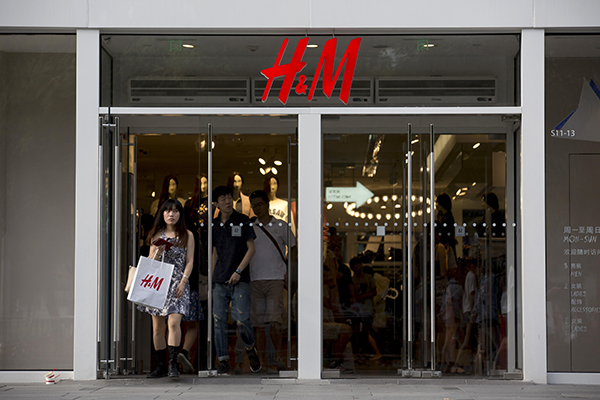 An H&M store in the Sanlitun area of Beijing. [Photo/Agencies]
Several CEOs said the divergence was a normal sign that China's economy is maturing from one based on industry to one fueled by consumption.
Growth for 2015 as a whole hit 6.9 percent after the fourth quarter slowed to 6.8 percent, capping a tumultuous year that witnessed a huge outflow of capital, a slide in the currency and a summer stocks crash. There has been further volatility in financial markets this year.
Data from China's statistics bureau showed that industrial output for December missed expectations with a rise of just 5.9 percent, illustrating how a slowing economy and shift to consumer-led growth is hurting industry.
By contrast, December retail sales, although disappointing, were a strong 11.1 percent.
Ford Motor Company reported a good fourth quarter in China with sales up 27 percent in December.
"It's going from an investment- and industry-led economy to a consumption-led one. And if you look at the consumption piece of GDP, that's actually growing, which is a good sign," CEO Mark Fields said last month. "It's going to be a bit bumpy as they go through that transition."
Consumer goods companies are not unaffected by China's downturn. Several have reported weakness in the market but even they have largely shrugged it off.
Apple said it saw some "economic softness" in China-"something that we have not seen before", Chief Financial Officer Luca Maestri told Reuters in an interview.
However, CEO Tim Cook said the iPhone maker was not changing its investment plans in China, citing strong underlying demand trends.
"The middle class in China was less than 50 million people in 2010, and by 2020, it's projected to be about half a billion ... I think the demographics are great," he said.
Some companies, like Ford and Unilever, which reported moderate growth in the more developed markets within China, said secondary cities were picking up the slack.
"The growth is coming from really the lower-tier and coastal cities, more so than the A cities," said Paul Polman, CEO of Unilever, which makes everything from ice-cream to cleaning products.
An increasing adoption of Western consumption patterns is also buoying companies. Drinks maker Remy Cointreau said Christmas gifting was becoming increasingly important for his business.