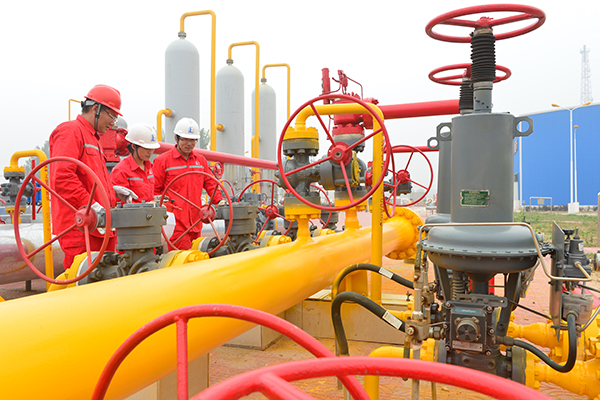 Sinopec technicians check pipeline facilities in Puyang, Henan province. [Photo/China Daily]
PetroChina Co and its State-owned parent are planning to sell assets before the end of the year that may include stakes in pipelines and refineries as the country's biggest oil and gas producers seek to shore up their balance sheets, according to sources with knowledge of the situation.
PetroChina and China National Petroleum Corp may announce the stake sales as early as this week, said the sources, who declined to provide details and asked not to be identified. CNPC is seeking to use proceeds from the sale to meet annual income growth targets set by the country's State asset regulators, according to the people.
"Many investors would prefer they cash in on some assets rather than running the assets themselves," Laban Yu, head of Asia oil and gas equities at Jefferies Group LLC in Hong Kong, said by phone.
"Investors have given almost zero valuation to PetroChina's assets such as pipelines. Any asset sales right now are good news for the company and could help its share price."
The slump in energy prices has pushed energy companies to shed assets and cut staff to survive the downturn. PetroChina's third-quarter profit fell 81 percent to the lowest since Bloomberg started compiling the data in 2007.
China Petroleum and Chemical Corp, the country's No 2 producer known as Sinopec, posted a 92 percent decline in profit.
The sale would be the first major divestment by either company since PetroChina sold a 20 billion ($3.1 billion) yuan pipeline stake to institutional investors in 2013. Saudi Arabian Oil Co, the world's largest oil exporter, hired Deutsche Bank AG to advise on the potential acquisition of some marketing, retail and refining assets from CNPC that could be worth several billion dollars, Bloomberg reported in October.
Income at both companies has dropped "dramatically" this year, adding pressure to meet growth targets, Wang Dongjin, a deputy general manager at CNPC and president of PetroChina, said in a statement posted on CNPC's website this month. CNPC will try to raise profit through an "asset-light" strategy, Wang said, without elaborating.