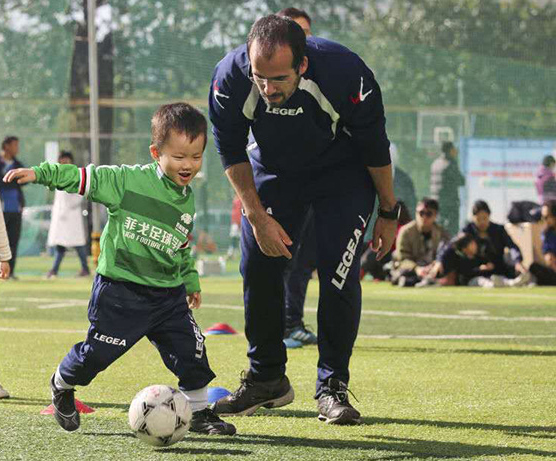 A Portuguese soccer coach teaches a young boy how to dribble at the WinningLeague Luis Figo Soccer Academy in Beijing. [Photo provided to China Daily]
Soccer schools run by major European clubs and former international players are fueling business opportunities for Chinese companies
Yu Bofan dreams of joining a major European soccer club, such as Spain's La Liga giants Barcelona, and idolizes Lionel Messi, the club's iconic Argentinian star.
Now aged 11, he has been playing the game since he was six years old and was among China's top three finalists vying for a "soccer scholarship" at the Chelsea Academy.
In the end, he missed out on winning the big prize to train at the world-renowned soccer school run by the English Premier League champions in the United Kingdom.
But that setback has not destroyed his passion for the game. "I would love to be a professional footballer," Yu, who is a striker just like his hero Messi, and comes from Beijing, said.
"I like playing soccer because it is good fun and it is all about teamwork," he added.
Nurturing young talent such as Yu is gaining ground in China as the business of soccer takes off. Already there are plans to make the game a compulsory part of the national curriculum.
By 2017, it is envisaged that 20,000 schools will have new soccer pitches and training facilities, creating 100,000 new players. All of this is part of President Xi Jinping's aim to turn China into a soccer powerhouse.
A lack of grass roots infrastructure has been blamed for the lack of success at international level. But Xi, a passionate soccer fan, would like to see that rectified.
Part of the problem is the demanding educational system for students with many Chinese parents regarding the game as a distraction.
"My son begged us to take him to a soccer academy because he really loves the sport," Jessica Zheng, the mother of Doudou, 5, said.
"But he only practices on Saturdays because we live far away, and we want him to have time for his studies."
Watching TV games from the English Premier League in the UK, La Liga in Spain and Serie A in Italy is incredibly popular here. But playing soccer at youth level still lacks structure and funding.
Gradually, that is changing. After-school academies, set up by major European clubs and former international soccer players, are springing up. Investment is increasing.