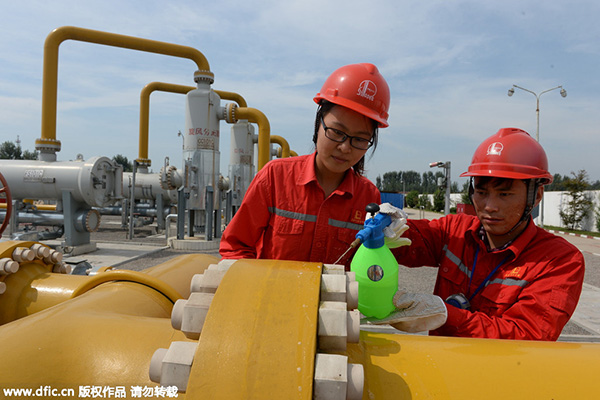 Workers check the natural gas pipeline at a gas field in Zibo city, Shandong province, Sept 14, 2015. [Photo/IC]
China announced a near 25 percent cut in wholesale prices of natural gas from Friday, the second reduction this year, as it seeks to boost flagging growth in demand for the cleaner-burning fuel.
China's energy giants have been forced to resell or renegotiate long-term global supplies as a cooling economy has hit gas demand in the world's third-largest consumer, while an inflexible pricing policy also curbed consumption.
Benchmark city-gate prices for non-residential users will be lowered by 0.70 yuan ($0.1097) per cubic metre from Nov 20, the country's top economic planner, the National Development & Reform Commission, said in a statement on its website on Wednesday.
Besides cutting the benchmark prices, the agency also said it allowed a 20 percent upward float, but set no limit for a downward adjustment.
Some market watchers had expected another cut in prices but not by as much, illustrating that the government wanted to send a strong price signal to boost demand, but the impact could be mixed for players in the market.
"It should boost demand on the direct, large end users of especially domestic pipeline gas, and also benefits those with integrated value chains such as downstream assets in power plants and city distribution networks," said Li Yao, CEO of Beijing-based consultancy SIA Energy.
But for state energy firms that have signed up to more pricey long-term supply deals of liquefied natural gas, such as with Qatar and more recently Australia, the price cut would hurt their import business, Li said.
City-gate prices are those paid by local distributors or city gas firms to pipeline operators, mainly PetroChina and Sinopec Corp.
The agency also urged participants in the market for non-residential gas to trade on the Shanghai spot exchange in order to achieve "full market transparency" within two to three years.
The Shanghai exchange will publish regular information on spot trades, it added.
Beijing introduced a new pricing scheme in July 2013 to pull domestic prices of natural gas closer to the cost of imports, besides spurring greater domestic output and burning cleaner fuel to cut emissions and fight pollution.
The government last adjusted prices on April 1, with a 0.44 yuan per cubic metre cut on so-called "incremental" gas, effectively merging two tiers of pricing into one, to track an oil market slump.
But that price cut did not fully reflect the falls in substitution fuels against which the regulated gas prices were benchmarked, curbing use by factories and slowing vehicles' shift to the fuel from diesel and gasoline.
Demand growth shrank to less than 3 percent this year, a far cry from the heady years between 2004 and 2013, when gas use jumped five-fold.
The fall forced state oil majors to cut domestic onshore production and also delay developing new discoveries offshore China.
The economic planner's announcement on Wednesday did not address residential gas, a sector long seen as sensitive to price increases.
It said last month it was considering shortening the gap between gas price adjustments, so as to better reflect market fundamentals.