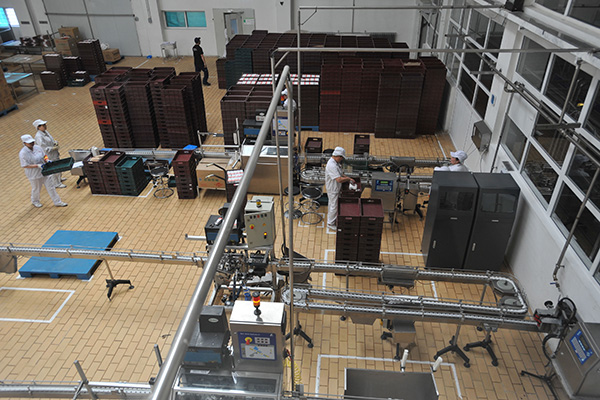 A production line of China Huishan Dairy Holdings Co in Shenyang, capital of Liaoning province. [Photo provided to China Daily]
In Hong Kong, it's hard to find a stock where analysts and short sellers see more dismal prospects than China Huishan Dairy Holdings Co. Thanks to a spurt of buying from the company's chief executive officer, finding a better performer is just as tough.
Shares of the milk producer have soared 90 percent since early July, despite the highest level of short interest in Hong Kong and analyst price targets implying a 46 percent tumble over the next 12 months.
The rally is being fueled by Huishan CEO and controlling shareholder Yang Kai, whose four-month spree of stock purchases accelerated to an almost daily frequency in October and lifted the company's market value to $5 billion.
While analysts are put off by a price-to-earnings ratio more than double that of peers, Huishan says Yang's purchases reflect confidence in the business and his view that shares have been unfairly targeted by short sellers. Yang's battle with the bears is likely to come to a head soon, with the company due to unveil earnings this month for the first time since its stock started surging. In the meantime, Ample Capital Ltd and Daiwa Capital Markets are advising investors to steer clear.
"We would not be going into this stock," said Alex Wong, a Hong Kong-based asset-management director at Ample Capital, which oversees about $150 million. "You cannot use the fundamentals to explain the share price."
At 39 times projected earnings for this fiscal year, Huishan is trading near its most expensive level on record. China Mengniu Dairy Co and China Modern Dairy Holdings Ltd, two of its closest Hong Kong-listed peers, are valued at multiples of 17 and 9.3, respectively.
Huishan said there are good reasons to be optimistic. Eddie So, the firm's chief financial officer, predicted annual profits will increase over the next few years as Huishan expands outside its core market in northeastern China and builds a nascent renewable energy business turning cow dung into fuel.
Huishan's "vertically integrated" model-the company grows feed crops and turns its own raw milk into higher-value dairy products-is a competitive advantage, So says. Over the long run, China's decision last month to relax its one-child policy could help boost demand for infant formula and yogurt. The shares rose 0.7 percent on Tuesday.
"We are focusing on the long-term business plan instead of looking at the P/E ratio," So said in an interview in Hong Kong on Nov 4. "Mr Yang and the management team all have strong confidence about the business prospects."