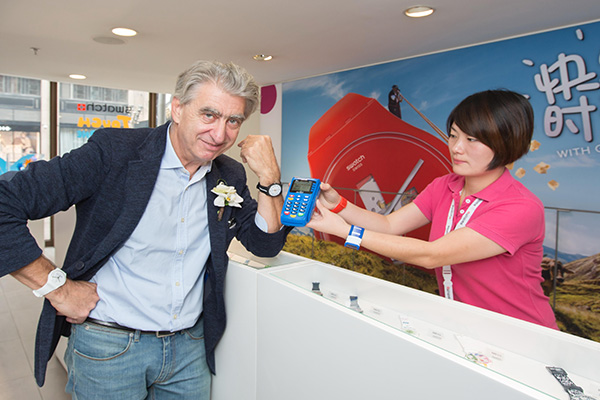 Nick Hayek, CEO of Swatch Group, demonstrates a new wrist watch that enables payment via China UnionPay's system at the launch ceremony in Shanghai. [Photo/China Daily]
Swatch Group AG, the world's largest watchmaker by revenue, has chosen to launch its new smartwatch with the ability to allow mobile payments via China UnionPay Co's system-a move which experts said could present a significant challenge to products already available from rivals Apple Inc and Samsung Electronics Co.
The watch can process payments at point-of-sale machines globally as long as the machines use UnionPay linked to Bank of Communications Co's bankcard.
A technology chip embedded under the device's dial enables users to wave the watch at POS terminals to complete payments, just like swiping a card, but without the need to key in a PIN or sign a name.
Priced at 580 yuan ($91), the Swatch Bellamy will be sold in China at Bank of Communications and Swatch branches from January 2016, said Nick Hayek, Swatch's chief executive officer.
The product will then roll out in the United States and Switzerland with respective local payment system partners.
Hayek said the passion for innovation and flexibility by China's banks and its bankcard association, and their efforts to secure safe payments, were the major reasons for Swatch choosing China as the first country to launch the Bellamy.
Market analysts said the Swiss watchmaker is looking to gain market share among young consumers in the increasingly popular wearable devices sector, after its own sales had been put under pressure due to shrinking demand and exchange rate volatility.
"The pricing point (of the Bellamy) is much lower than that of Apple's smartwatch, which is 2,499 yuan, minimum," said Liu Mingda, a researcher with Shanghai-based Hengrong Consumption Ltd.
"Its link with UnionPay makes the product 'usable' in China, while Apple's and Samsung's watches are linked to payment systems that are not yet working in the country," said Liu, adding there are still no timetables for their starts.
This first payment function may be a "tipping" point for wearable-device users in China, said Liu, while other functions such as GPS, fitness data log and compass have become the norm for the devices for more than two years.
China UnionPay holds a virtual monopoly on bankcard payment processing in China, but has always maintained it remains open to cooperation opportunities with other payment services.
According to data from the People's Bank of China, the central bank, Chinese mobile payment transactions jumped 134 percent to 22.6 trillion yuan ($3.6 trillion) in 2014.
Recent research from Guosen Securities suggested that in the past, mobile payment was all about paying by handset, but "now the competition has been extended from palm to wrist".