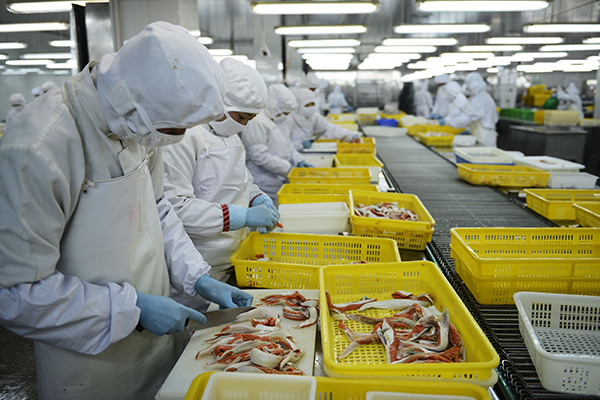 Workers process aquatic products at Rizhao Nichiro & Rongsense Foods Co Ltd in Shangdong province. These products were exported to Japan. [Photo provided to China Daily]
Middle class shoppers in China are showing a growing appetite for seafood products and a passion for imported delicacies as they prop up an industry going through turbulent times.
Data released in August by the Ministry of Commerce showed that China imported seafood and fish products worth $3.52 billion during the first seven months of this year, down 5.12 percent from the same period of 2014.
Aquatic exports reached $10.66 billion during the same period, a year-on-year drop of 4.7 percent, according to the General Administration of Customs.
Against that backdrop, leading businesses in the traditional seafood sector are having to work hard to retain their market share.
At the Seafood Expo Asia 2015 event, which was organized by Diversified Communications earlier this month in Hong Kong, opinions were mixed about the state of the industry.
Cooke Aquaculture, the world's largest independent, fully integrated salmon farming company based in Canada, was bullish about the Chinese sector.
Marketing Director Andrew Lively pointed to the rising sales in upmarket seafood products, fueled by middle class consumers.
"We believe this trend will continue into the foreseeable future," Lively said.
But there are challenges ahead. China's economy is slowing, while the depreciation of the yuan since August by as much as 3 percent has increased the price of expensive imports, such as seafood products.
D&D Seafood Corporation, a lobster exporter based in the United States, has had to adjust to the new economic environment. The company has been in China for seven years and now plans to switch its focus from "live lobsters", which make up 70 percent of its business, to frozen ones.
"Frozen lobster now make up to 30 percent of our operation," Robin Dopico, president of the company, said at the Expo. "The price is more stable and it helps us withstand currency fluctuations amid a cooling global economy."
China accounts for about 70 percent of D&D's overseas business, so Dopico is concentrating on the long-term picture.