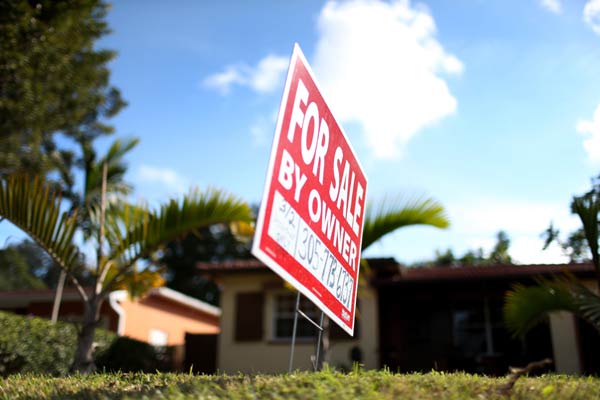 A for-sale sign in front of a house in Miami, Florida. An increasing number of Chinese are buying properties in Miami, attracted by its clean beaches and tropical climate. [Photo/Agencies]
China has surpassed Canadians to become the biggest foreign buyers of real estate in the US by both sales and dollar volume, accounting for more than a quarter of all international spending, Bloomberg reported on Wednesday.
Research from the National Association of Realtors of the United States showed that Chinese buyers spent $28.6 billion on US homes and made up 16 percent of transactions by foreigners in the 12 months through March.
Canadians, who had led international purchases since 2008, ranked second with $11.2 billion in spending and a 14 percent share of sales.
Indians ranked as the third-biggest group of foreign buyers, at $7.9 billion, followed by Mexicans with $4.9 billion, according to the report.
The survey groups buyers from Hong Kong and Taiwan with those from Chinese mainland.
By number of transactions, total US home sales to international buyers dropped 10 percent to about 209,000 units, indicating a stronger dollar hurt demand from abroad. Purchases by dollar volume were about $104 billion, up from the year-ago estimate of $92.2 billion.
Florida, California, Texas and Arizona attracted more than half of international buyers. Canadians tend go to the warmer climates of Florida and Arizona, while Chinese buyers gravitate toward the West Coast, because of its proximity to Asia.