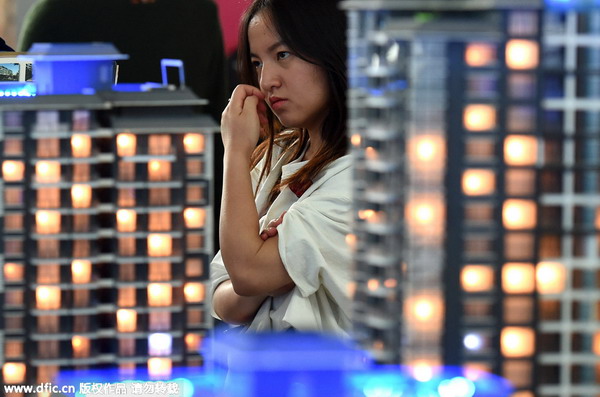 A Chinese homebuyer looks at housing models of a residential property project at a real estate fair in Kunming city, Southwest China's Yunnan province, April 16, 2015. [Photo / IC]
China will merge its property registration agencies before the end of this year, according to central government departments.
Implementing the provisional property registration regulation, which has been effective for nearly two months, requires government bodies that now carry out such registration works to consolidate, the Ministry of Land and Resources and the State Commission Office for Public Sector Reform said in a statement.
The two departments have issued guidelines that request local governments at or above county-level to retrieve registration functions from different government agencies and select one of these agencies to take on the task.
Currently, a wide range of government bodies registers properties such as real estate and farmland.
"So far, 27 out of 32 provincial level regions on the mainland have consolidated their provincial registration departments," the Ministry of Land and Resources' Property Registration Bureau said in a statement.
"But when it comes to lower level places, only 151 out of 3,100 cities and counties have done the work, which means more than 95 percent of them have yet to begin the consolidation."
It urged local government to speed up the process of combining registration agencies and duties.
China released a provisional property registration regulation on March 1, asking authorities to begin collecting ownership data on a unified platform.
The regulation stipulates that property ranging from buildings to maritime areas, and forests to rural homesteads, must be registered and the data used during property transactions and upon request from government agencies.
Analysts say the registration system will address problems such as duplicate or wrongful registration by different government agencies and transaction risks resulting from a fragmented, uncoordinated system.
The data acquired through registration will also provide the government with a more reliable reference for designing a property tax in coming years, which many analysts believe will add to the cost of holding assets and precipitate the sale of homes previously bought as investments.
Another unspoken goal of the registration system is to make it harder for corrupt officials to possess multiple homes, said Han Changyin, a business law professor with the KoGuan Law School of Shanghai Jiao Tong University.
"If ownership data is better managed and shared with government watchdogs, it will be easier to pin down questionable assets in the ongoing campaign against corrupt officials," Han said. "A lack of ownership data and information sharing has created loopholes for corrupt officials to play the system and hide illicit properties."