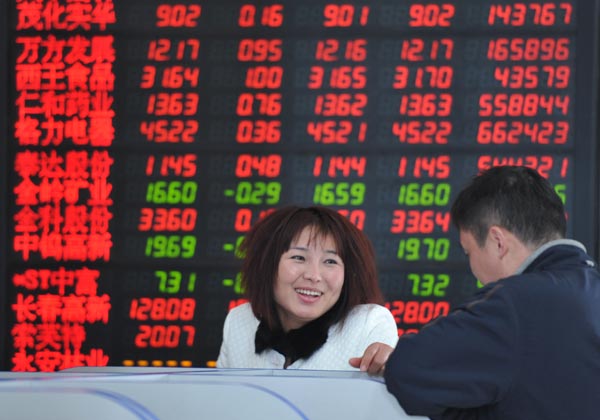 Investors at a securities firm in Fuyang, Anhui province, on Monday. The benchmark Shanghai Composite Index rose 2.17 percent to close at 4,121.17 points. [Photo/China Daily]
Long bull run on stock exchanges persuades millions of rookie investors to take plunge
Investors in the Chinese mainland are permitted to open multiple stock-trading accounts, as regulators on Monday removed the "one person, one account" restriction amid a dramatic bull run in the equities market.
The benchmark Shanghai Composite Index shot up 2.17 percent to close at 4,121.17 points on Monday, further extending an 80 percent gain over the past six months. The index, which hit a seven-year high, has become the world's best-performing benchmark index.
An individual investor can now open and use up to 20 A-share accounts at different brokerage firms under the unified account platform, which integrates various stock clearing and settlement systems, according to China Securities Depository and Clearing Corp Ltd, a State-owned clearing service company.
The company launched the unified account platform in October. The system allows investors to switch among different brokerages without opening new accounts and closing their existing ones.
Previous regulations had limited each individual to one stock account.
Analysts said that the regulators' move will cut account opening costs for retail investors, who previously had to pay separate account fees for trading stocks or derivatives on the Shanghai and Shenzhen markets.
"It could also spark a war over commission fees among securities firms to attract new clients," said Dong Dengxin, who researches the finance sector at the Wuhan University of Science and Technology.
The mainland stock rally has lured millions of new investors into the market. As of April 3, the total number of active stock accounts stood at 150 million, equivalent to more than 10 percent of the country's population, according to China Securities Depository and Clearing Corp Ltd.
The latest wave of new account openings is said to have been dominated by rookies in their 20s and 30s, causing some analysts to worry about speculation.
On Monday, investors shrugged off concerns about the troubled outlook for the country's foreign trade, after the General Administration of Customs announced that exports contracted 15 percent year-on-year in March.