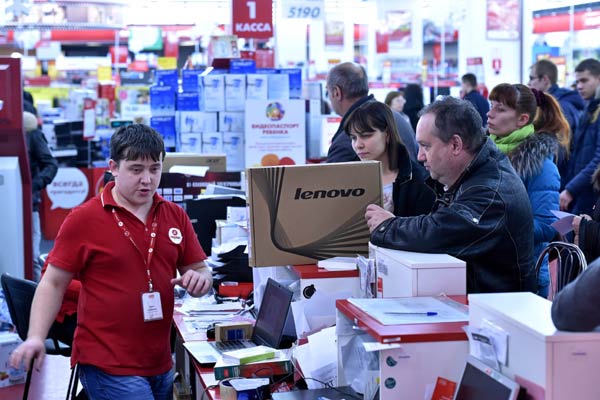 Consumers at a mall in central Moscow on Monday. Russians are feeling the pinch from the slumping rouble and snapping up electronics, furniture and cars before prices soar.[Photo/Agencies]
Crazy was the word Yu Wenting used to describe the past few days in Moscow as she hurried to department stores and supermarkets to purchase goods ranging from milk powder to luxury watches and jewelry on request from her friends and relatives in China.
The dramatic fall in the rouble value has not only sparked a shopping frenzy for local residents but also for cash-rich Chinese buyers who would not miss any opportunity to take advantage of the price gap for luxury items inside and outside China.
Yu, who lives and works in Russia, said she managed to snap up 10 iPhone 6 models for her clients who ordered them through the popular Chinese social networking platform WeChat before Apple Inc shut down its online stores in Russia after the rouble's drastic depreciation.
Moscow's high-end department stores are packed with Chinese shoppers and foreign tourists, browsing Western brands such as Gucci, Prada and Louis Vuitton, Yu said.
"Luxury goods at some stores were already sold out and the shelves are empty now. Moscow is crazy and so are the Chinese," she said.
The rouble dropped sharply on Tuesday to a record low of 80 per dollar before recovering to around 67. Although the Russian central bank has intervened in the foreign exchange market to shore up the currency, the rouble has lost nearly half of its value against the dollar this year.
The falling rouble is also triggering a sudden surge in Chinese tourism to Russia.
A border check post in Heihe, a city located on the China-Russia border in Heilongjiang province, reported a rising number of Chinese tourists to Russia over the past week.
Chinese tourists now make up more than 60 percent of the daily 2,000 visitors crossing the border in Heihe, according to data from the check post. Previously, the majority of visitors were Russian tourists to China.
Li Jian, a Beijing resident, said: "I am thinking of spending the New Year holiday in Moscow although winter is not necessarily the best season. I assume traveling expenses in Russia are cheaper now as the currency is falling."
But Chinese shoppers and tourists who are planning trips to Russia could end up disappointed as the rouble staged a solid rebound on Wednesday after the Russian government said it would not hesitate to inject dollar liquidity to bolster the currency.
Luxury brands have resorted to price hikes or suspension of supply to offset the value loss of their sales. Jewelry brand Cartier has reportedly raised its Russian prices by as much as 50 percent.
Other retailers including Apple, Renault SA and McDonald's Corp have also been raising prices after the rouble's plunge. Some international firms have suspended supplies of luxury items at least until the currency stabilizes, Bloomberg reported.