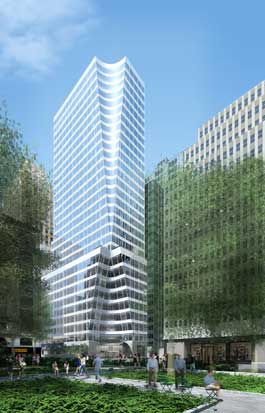 A mock-up photo of the under-construction 7 Bryant Park. Photo from the official website of Hines.
Investment arm in talks to acquire office space in Manhattan tower
Bank of China Group Investment Ltd, an affiliate of State-owned lender Bank of China Ltd, has inked an agreement to acquire office space in a commercial tower in Bryant Park, New York City, sources said on Tuesday.
The Hong Kong-based company is currently negotiating the price with developers, Hines, Pacolet Milliken Enterprises and JP Morgan Chase & Co's asset management branch, said Wei Da, managing director of the asset management division at Bank of China Group Investment Ltd.
"The company signed a long-term lease to acquire space in the building, and we will lease the office spaces for rentals," he said.
The glassy 30-story tower, located at 7 Bryant Park, is scheduled to be ready for occupancy early next year, and will become the newest embellishment to Manhattan's skyline. The building is under construction along Sixth Avenue between West 39th and West 40th streets at midtown west Manhattan, just south of the Bank of America Tower.
Bank of China Group Investment Ltd is set to take over the property rights upon its completion.
"The company has visited and researched many properties in New York City, and 7 Bryant Park excels with its location and construction quality, which is in line with our investment standards," Wei said.
Chinese outbound investment in commercial property has grown rapidly in recent years, and reached $33.7 billion in the period from 2008 to June 2014, growing more than 200-fold during that time, according to a report by Cushman & Wakefield, the global private commercial real estate services firm.
In October, China's Anbang Insurance Group Co bought the landmark Waldorf Astoria hotel in Manhattan from Hilton Worldwide Holdings Inc. Last year, Ping An Insurance Group Co, China's second-largest insurer, acquired the Lloyd's of London building from a Commerz Real AG-managed fund.
Meanwhile, the United States became the top destination for investment from the Chinese mainland, followed by Hong Kong, Singapore, Australia and Malaysia, the report said.
Lu Ming, research manager of Cushman & Wakefield, said part of the reason for Chinese enterprises' preference for US commercial property targets is that they are optimistic about the US economy.
"Every individual company has its own specific consideration. But the shared reason is the prospect of asset value appreciation and the appreciation of the dollar. Holding dollar-denominated assets can also help diversify the asset portfolios," Lu said, adding that owning a landmark building in a gateway city also helps boost the company's profile.
"We are just seeing the very early stage of Chinese companies buying out overseas properties. In the future, we will see more diversified buyers, including smaller companies," he said.
Zheng Yangpeng and Jiang Xueqing contributed to this story.