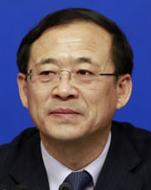 BEIJING - Agricultural Bank of China (ABC), one of the country's "big four" banks, announced on Friday that it has appointed Liu Shiyu as its board chairman.
Liu will start his term when the China Banking Regulatory Commission approves the appointment.
The 53-year-old economist will also chair the strategic planning committee under ABC's board.
Liu became vice-governor of China's central bank in 2006
and resigned from the post last month.