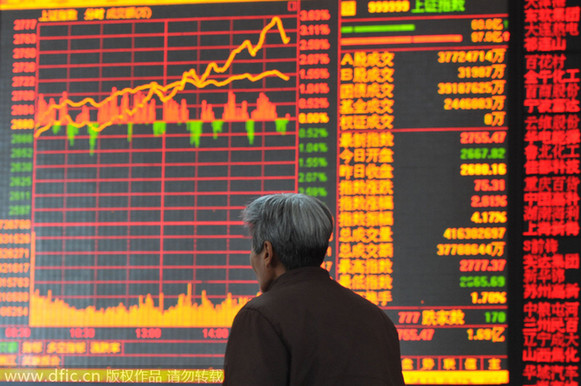 An investor checking stock index in a localbrokerage firm, at Fuyang, Anhui province, Dec 2, 2014. [Photo/IC]
BEIJING -- Chinese shares continued soaring on Thursday, with the benchmark Shanghai Composite Index jumping more than 3 percent in the afternoon trading session and hitting a 43-month high.
The Shanghai index surpassed the 2,800-point psychological mark in less than 30 minutes following Thursday's opening. It continued rising and advanced more than 3 percent at around 2:00 p.m., one hour before the closing.
The smaller Shenzhen Component Index also jumped more than 3 percent and surpassed the 10,000-point psychological mark.
Financial, coal and oil heavyweights led the charge. The financial sub-index jumped over 6 percent, with more than 10 securities firms jumping by the daily 10 percent limit, including Citic Securities, Huatai Securities and Hongyuan Securities.
In a rare scenario, two oil giants, PetroChina and Sinopec, also jumped by the daily 10 percent limit.